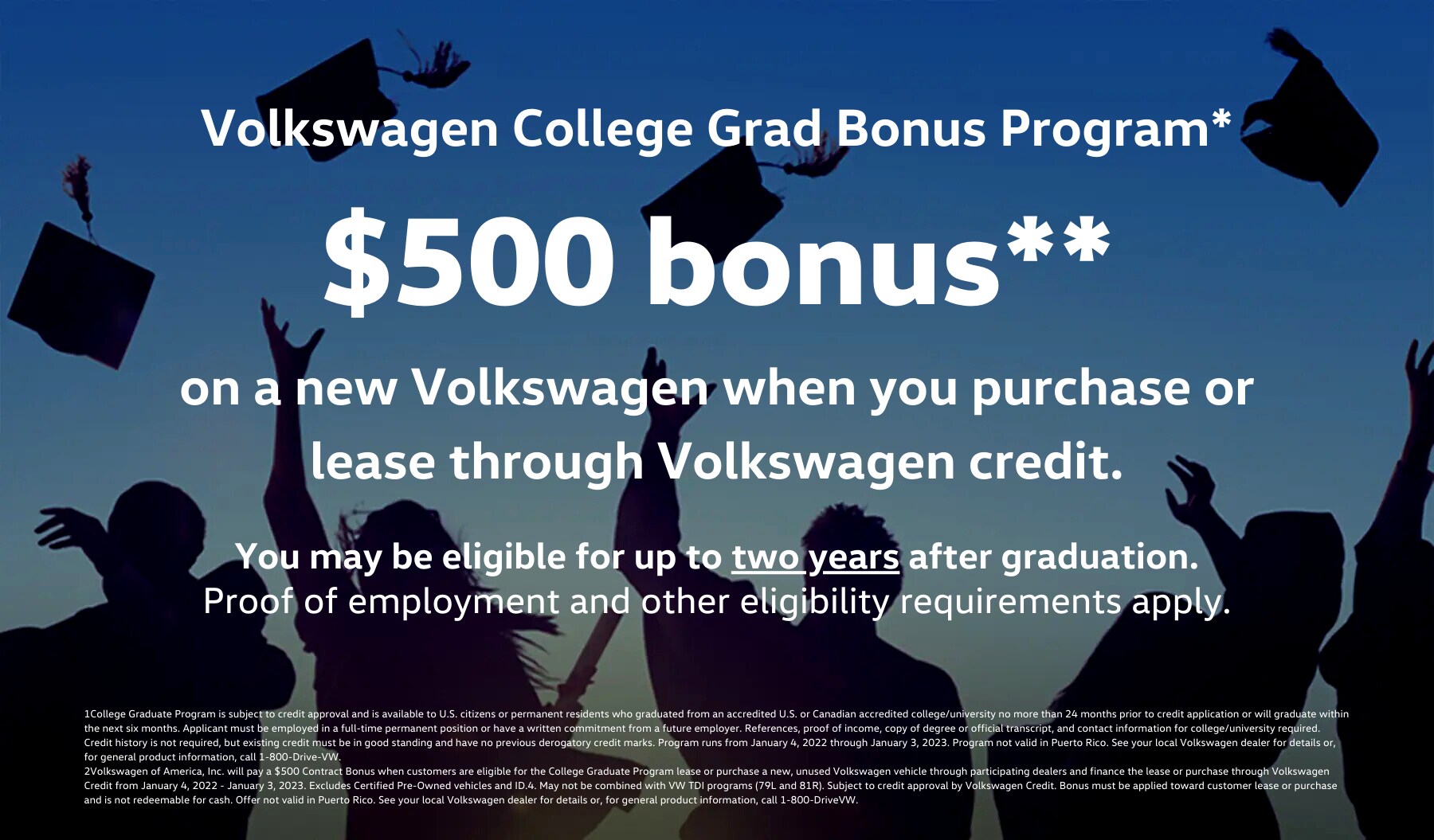 Volkswagen College Grad Bonus Program*
$500 bonus** 
on a new Volkswagen when you purchase or lease through Volkswagen credit
You may be eligible for up to two years after graduation.
Proof of employment and other eligibility requirements apply.
You did it! Walking across the stage and receiving a degree not only concludes all of your studies and testing but also marks a huge step forward into the professional world. We're very proud of the graduates in our area who have pushed themselves to grow and take on challenges in the classroom, and we want to make sure local graduates know how much we appreciate them. That's why we have a VW college grad program that rewards recent graduates as well as those approaching graduation in the near future.
Our Volkswagen college graduate program extends another congratulation to recent graduates. Come down to our dealership today in Kennesaw, GA, and see all that comes with becoming a new car owner or lessor who has received their diploma.
Inside Our VW College Graduate Program
Our VW college grad program offers an outstanding benefit for those who have recently graduated and are looking to get into a new Volkswagen model. We have several scintillating sedans and SUVs on deck right now that newly-graduated drivers can't wait to get their hands on. These cars are built to help you fly through your daily schedule and are respected by experts and local drivers alike for how they stand up to the wear and tear of adverse conditions and time. We'll help you get behind the wheel of a car you've dreamt up on those long nights in the library and set your future on a course for even greater success, on and off the road.
Graduates who meet the qualifications for our VW college grad bonus are eligible for a $500 bonus1 on a new Volkswagen vehicle when they purchase or lease said vehicle through Volkswagen credit. If you've graduated from a two- or four-year accredited university or college in the United States of America or Canada within the past 24 months, you're likely to be eligible. The same is true if you're set to graduate within the next six months and have your employment set up or already going.
Calling all new graduates looking to make a splash with their first post-grad car without making a dent in the bank account, we've got so many models in stock we're sure you'll love! They're eligible for the Volkswagen College Grad Program and are the ideal four-wheeled friends to help get you wherever you need to go.
If you have more questions about the Volkswagen College Grad Program, we encourage you to give your local VW finance center a call. They'll be able to break down the program in greater detail as well as let you know about all the eligible vehicles they currently have in stock. Congratulations, new graduate! It's time to start off your amazing journey in a car that's ready to let the good times roll as the miles pile up. So walk across that stage with confidence, your adventures have only just begun!