Volkswagen Tiguan Vs. Mazda CX-5: Performance, Interior, Dimensions & More

If you're one of the many drivers shopping the compact to midsize SUV market, you will likely want to know how popular options compare, like the VW Tiguan vs. Mazda CX-5. These two crossover SUVs both offer responsive performance, impressive efficiency, and value-rich interiors with versatile space for passengers and cargo alike.
However, there are plenty of differences, too. The 2023 VW Tiguan vs. 2023 Mazda CX-5 comparison isn't entirely a fair fight, as you will discover from our detailed review of these two sport-utes.
Volkswagen Tiguan Vs. Mazda CX-5: Engine and Performance
Drivers looking for robust performance in an affordable SUV can count on the new VW Tiguan for sale. That's because this midsize SUV sports a standard 2.0-liter turbocharged engine, generating 221 pound-feet of torque and 184 horsepower.
These power output figures compare favorably to the new Mazda CX-5, whose standard powertrain produces just 186 pound-feet of torque. With more torque comes more robust performance, especially from low speeds and lower RPM.
If you are looking for maximum fuel efficiency in your new SUV, you will like what the VW Tiguan lineup offers. With its fuel-sipping four-cylinder engine, eight-speed automatic transmission, and standard front-wheel drive (FWD), motorists can enjoy up to an EPA-estimated 23/30 MPG1 (City/Highway) rating.
The new Mazda CX-5 comes standard with AWD, which is a nice perk. However, not offering a two-wheel-drive version hampers the Mazda CX-5 SUV's fuel efficiency efforts. This Mazda crossover with its six-speed transmission returns up to an EPA-estimated 24/27 MPG1 (City/Highway), which is respectable but falls short of the Tiguan's excellent highway fuel economy rating.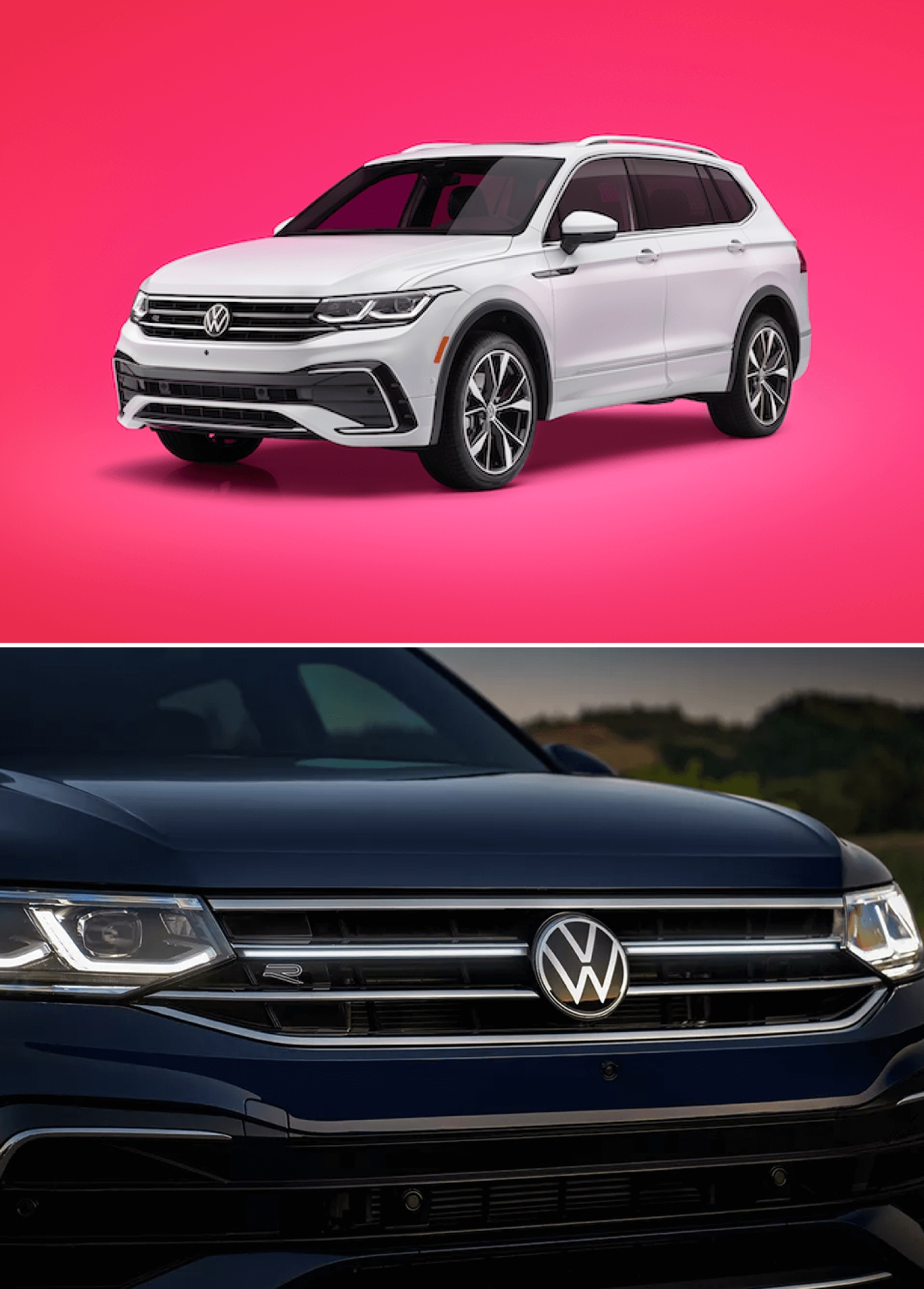 | | | |
| --- | --- | --- |
| | 2023 VW Tiguan | 2023 Mazda CX-5 |
| Engine | 2.0L Turbo Charged 4-cylinder | 2.5L 4-cylinder |
| Horsepower | 184 | 187 |
| Torque | 221 lb-ft | 186 lb-ft |
| Transmission | 8-speed automatic | 6-speed automatic |
| Est EPA MPG (city/hwy)1 | 23/30 | 24/27 |
| Cargo Room (rear seats down) | 73.4 cu-ft | 59.3 cu-ft |
| Seating Capacity | 7 | 5 |
| Max Towing Capacity | 1500 lbs | 2000 lbs |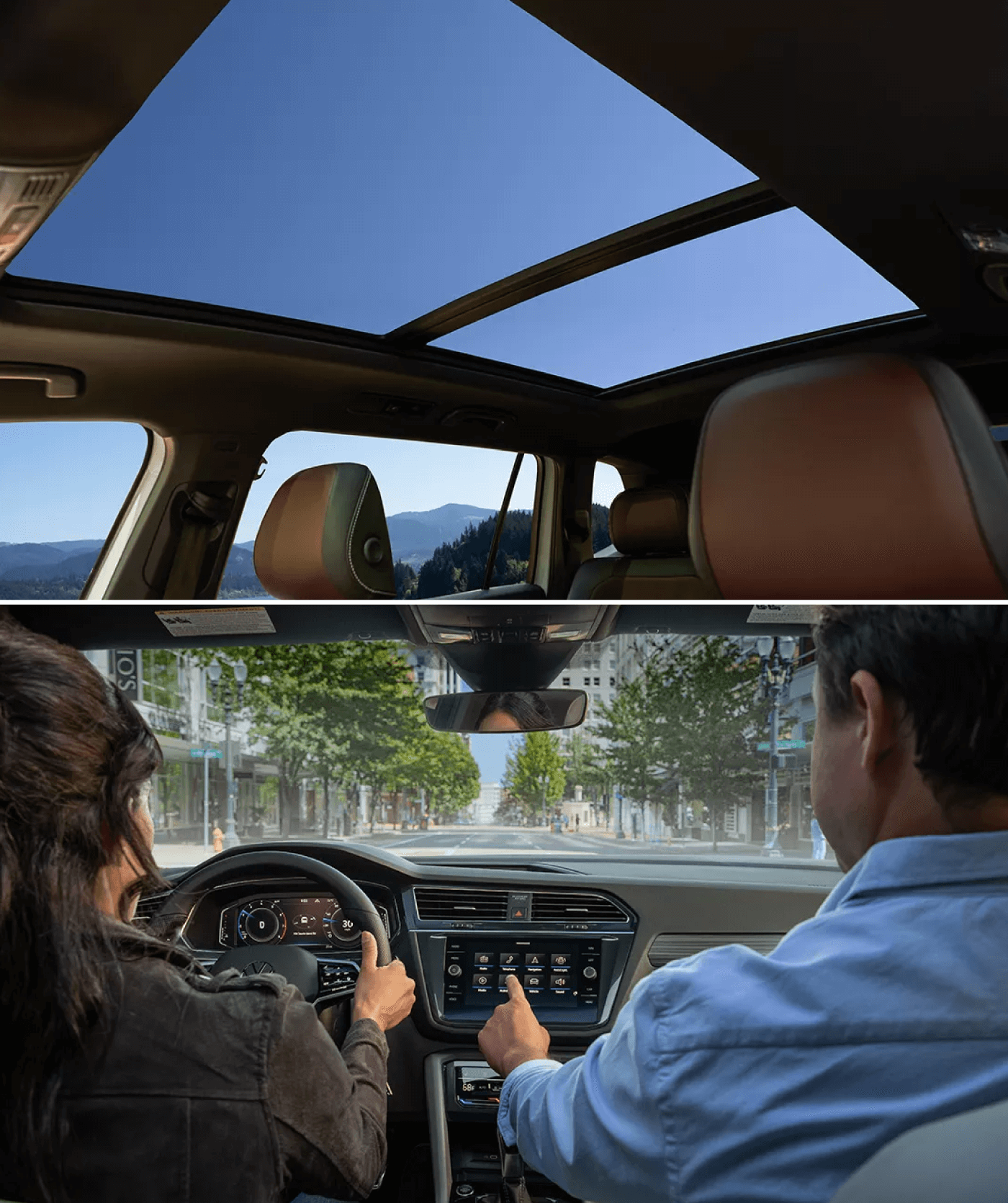 VW Tiguan Vs. Mazda CX-5: Interior Features and Seating Capacity
So, the Volkswagen Tiguan holds some advantages over the Mazda CX-5 regarding standard performance and efficiency. But what about interior space, versatility, and amenities? Let's take a look.
Drivers and families can enjoy an available three-row interior in the VW Tiguan, boasting seating for up to seven passengers. You will only find two rows for five-passenger seating in the Mazda CX-5.
Some of the premium features you will only find on the Volkswagen model include:
Volkswagen Digital Cockpit
Touch-screen interface
IQ.DRIVE safety suite
Seven-passenger seating
Front Assist
Automatic Post-Collision Braking System
Emergency Assist
Dimensions: VW Tiguan Vs. Mazda CX-5 Comparison
The midsize VW Tiguan is substantially larger than the compact Mazda CX-5 in overall dimensions, inside and out. Not only does the Tiguan offer more interior space, but it also boasts a higher seating capacity with its three rows for up to seven occupants.
The advantages keep coming for the Tiguan when comparing cargo capacity. With its larger cabin and split-folding second- and third-row seats, the new Volkswagen Tiguan offers an impressive 73.4 cubic feet of maximum cargo volume. The new Mazda CX-5 is far behind, with just 59.3 cubic feet of space for cargo.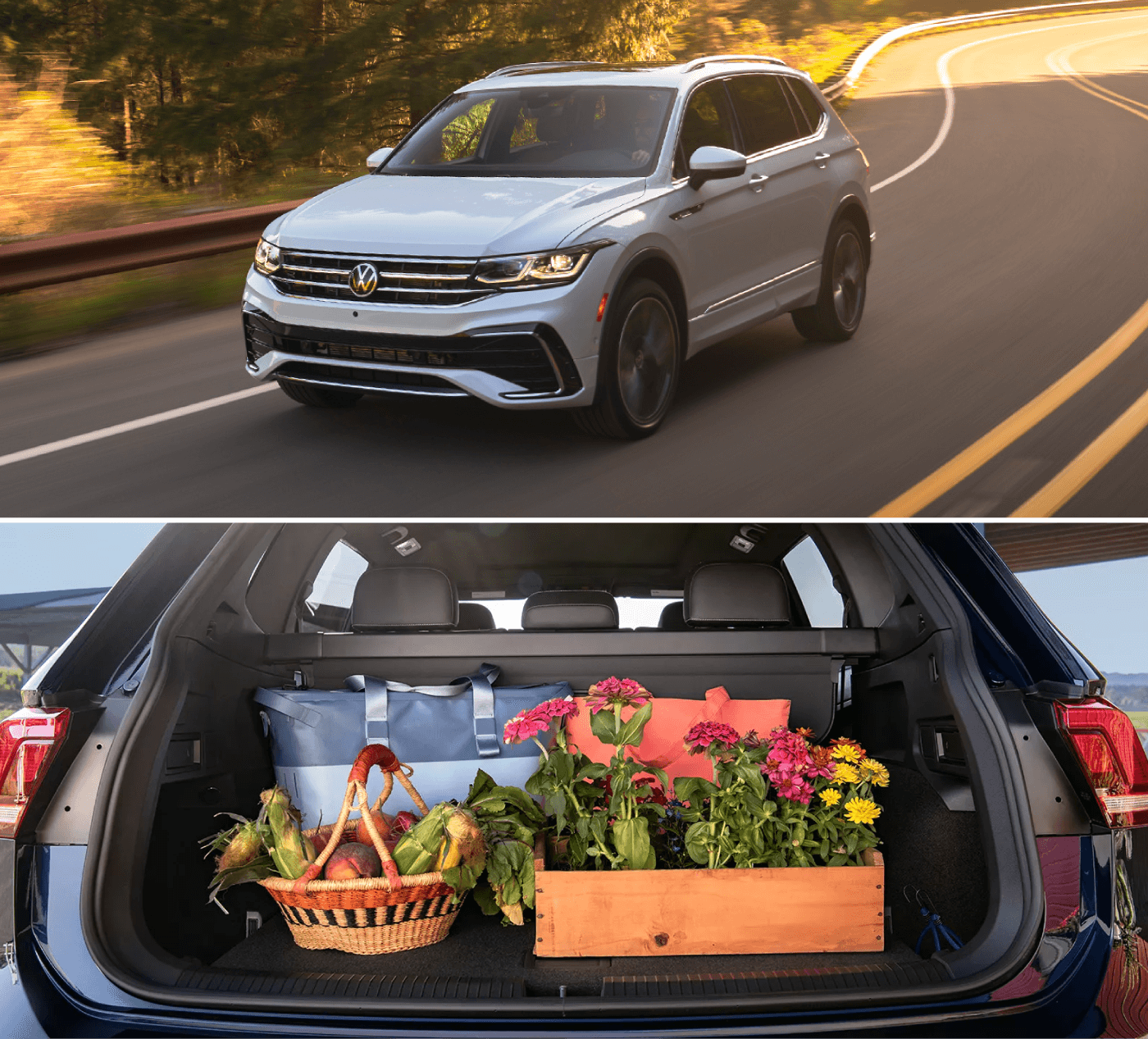 Tour the VW Tiguan Online and at Our Dealership
Now that you have discovered some ways the 2023 VW Tiguan outshines the 2023 Mazda CX-5, isn't it time for a closer look and a thorough test drive? Visit our VW dealership in Kennesaw, GA, to experience your preferred new Tiguan SUV.
Our full-service VW dealership near Atlanta, GA, is where you can buy or lease a new Volkswagen Tiguan through affordable monthly payments. Our dealership team is committed to providing budget-friendly solutions for every aspiring new VW driver. That's why we price our complete new Volkswagen inventory competitively and offer regular new car specials.
We encourage you to contact our finance center today if you would like to get started with your upgrade to a new Volkswagen Tiguan. If you still need some convincing as to why the VW Tiguan outperforms the Mazda CX-5, feel free to contact our friendly and knowledgeable VW sales staff at your convenience.
Frequently Asked Questions
Is the VW Tiguan bigger than the Mazda CX-5?
The new VW Tiguan is significantly bigger than the Mazda CX-5, inside and out. The Volkswagen SUV measures 186.1 inches long compared to the Mazda CX-5 at 180.1 inches. Occupants will enjoy 124 cubic feet of passenger volume inside the 2023 VW Tiguan compared to just 103.6 cubic feet in the Mazda SUV. Tour the spacious Tiguan SUV at our VW dealer in Kennesaw, GA.
Can the VW Tiguan seat more people than the Mazda CX-5?
The new VW Tiguan SUV for sale offers seven-passenger seating thanks to its spacious three-row interior. The new Mazda CX-5 only provides two-row seating for up to five passengers. If you are looking for a fuel-efficient, agile, and versatile new SUV that can accommodate your family and friends with ease, go with the VW Tiguan and its higher seating capacity.
Is the 2023 VW Tiguan better on gas than the Mazda CX-5?
The 2023 VW Tiguan SUV offers better gas mileage than the 2023 Mazda CX-5 by a significant margin. With up to an EPA-estimated 23/30 MPG1 (City/Highway), the Tiguan excels at highway fuel economy. The Mazda CX-5 offers respectable fuel efficiency ratings of up to an EPA-estimated 24/27 MPG1 (City/Highway), but still trails the Tiguan.
---
Make an Inquiry
* Indicates a required field
---
1Estimates only. For more information, please visit the official U.S. government source for all fuel economy at www.fueleconomy.gov.