Volkswagen Electric And Hybrid Vehicles In Atlanta, GA

Volkswagen electric vehicles are part of the wave of the future. Electric cars offer a gasoline-free way to get around. They also are breaking records left and right because all-electric vehicles can almost instantaneously apply their full torque to generate power, unlike traditional vehicles that have to spin up through their different gears.
Volkswagen has one all-electric vehicle available to consumers today and many more slated for the near future. As you may have heard, the company has resurrected the famous VW Bus in the form of the new VW ID. Buzz Microbus, an all-electric van that will take the world by storm. This article is going to discuss the current and future lineup of VW electric vehicles.
The Volkswagen ID.4
The VW ID.4 is available with rear-wheel or all-wheel drive. The former configuration pairs a single motor with a 77.0-kWh battery pack and makes 201 horsepower. You'll be able to shoot past anyone holding up the highway in this sleek crossover SUV — and you'll look great doing it.
The all-wheel-drive version of the car adds a second motor to the front axle. It gets a total of 295 horsepower, which is quite impressive for such an affordable vehicle. The VW ID.4 can tow up to 2,700 pounds,1 which means you can bring your family boat or pop-up camper along for a weekend getaway in the Atlanta, GA, region.
The EPA estimates that the 2022 VW ID.4 can travel up to 280 miles on a single charge.2 You'll be running errands all over town without having to top off, or you can take your new electric SUV over the state line before you have to recharge. When you do need to juice up, you can do so quite quickly. Publically available DC fast chargers can fill your battery in less than 35 minutes. You can refill the battery in about six hours when charging at home with a Level 2 charger.
The VW ID.4 also has an incredible suite of safety technology that will help keep you and your loved ones safe on the streets of Atlanta, GA. Every model comes standard with:
Automated emergency braking with pedestrian detection
Lane-departure warning with a lane-keeping assist system
Adaptive cruise control
And more
The Volkswagen ID.4 is a competitive and dynamic all-electric vehicle that stacks up well with the competition. You don't have to simply take our word for it: compare the ID.4 vs. Tesla and BMW electric vehicles now.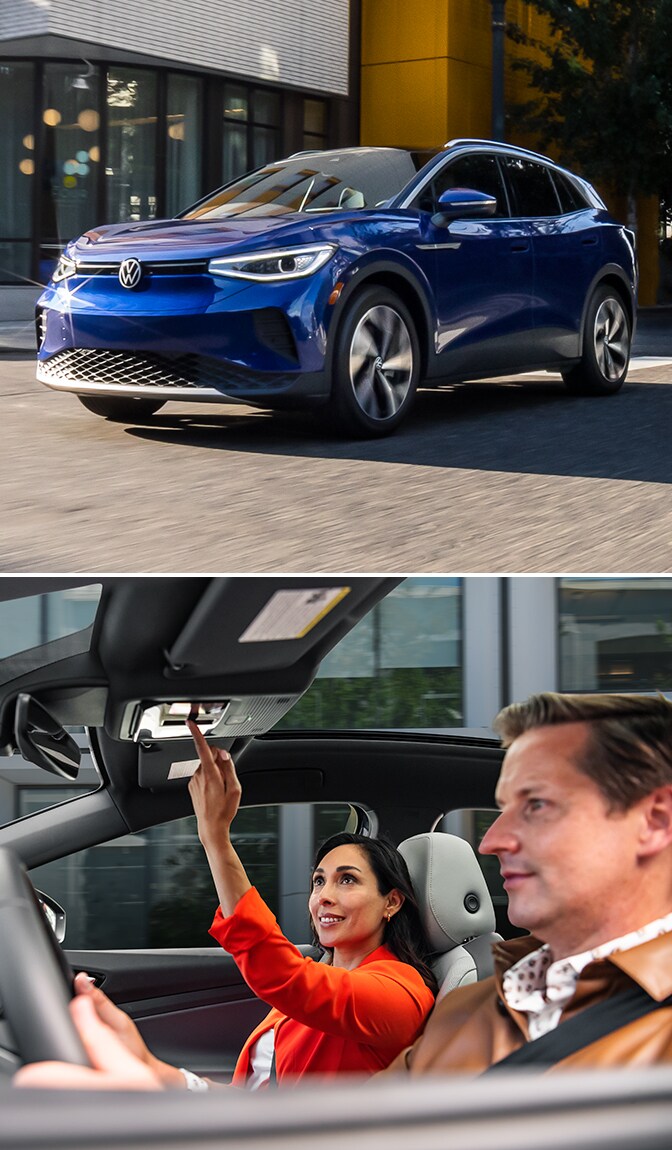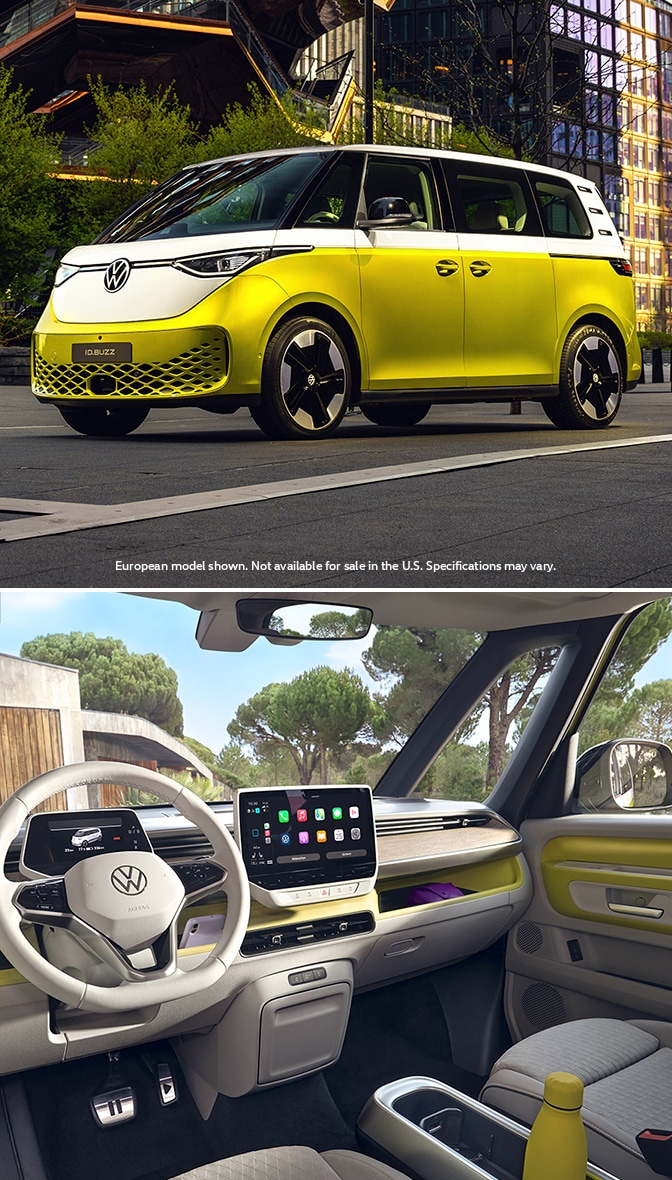 The Forthcoming Volkswagen ID. Buzz
The 2024 VW ID. Buzz is going to mark the return of the Microbus to the shores of North America. We are incredibly excited about this because the VW Bus is such an iconic vehicle. All of the photos we've seen of the new vehicle lead us to believe that it has captured the essence of its inspiration.
We don't know as much about the VW ID. Buzz as we would like as the car won't be released until sometime in 2023 or even 2024. We are, however, confident that it will serve families in Atlanta, GA, well. The new Bus will be able to seat seven people and haul all their gear to boot.
The base model will have a single motor mounted on the rear axle and be connected to a 77-kWh battery pack. It's expected to get 201 horsepower and make 229 pound-feet of torque. Like the VW ID.4, an all-wheel drive dual-motor version will also be available. It is projected to have 295 horsepower, putting it right in line with the company's existing EV.
Industry experts believe the vehicle will have at least 260 miles of range on a single charge.3 For a large seven-seat EV, this is quite impressive. Volkswagen tells us that the car will be able to add a roughly 75% charge in just a half hour at a DC fast charging station.
One thing that will differ significantly between the VW ID. Buzz and the original VW Bus is the car's technology level. The new ID. Buzz will have great standard safety technology, including automated emergency braking, lane-departure warning, lane-keeping assist, and more. It is also expected to feature a 10-inch touch screen and may even come with a rear-seat entertainment system to keep the kids busy.
Volkswagen Electric Cars in Atlanta, GA
The new VW ID. electric vehicles offer superb fuel economy, sleek style, and incredible performance for a competitive price. The VW ID.4 is a family-friendly SUV that looks great on the highway or the streets of Atlanta, GA. The VW ID. Buzz will be an incredibly popular vehicle as it pairs the iconic style of the original VW Bus with the gas savings of electric vehicles.
Whether you're searching for a new Volkswagen electric car, a gasoline-powered VW vehicle, or a used vehicle, you can find it at our dealership. Our staff is friendly and dedicated to customer satisfaction. The sales team is transparent and forthright; they're always pleased to help you find the vehicle of your dreams. Once you've got a car picked out, our finance folks will try to secure you a low-rate financing package.
We offer resources where you can learn more about electric vehicles and a sweeping selection of cars. You can check out our new inventory here or stop by the dealership to browse in person. Either way, we look forward to working with you soon.
---
1Maximum tow rating when equipped with dual-motor configuration and factory-installed towing hitch. Vehicle load, other accessories, and options may reduce maximum towing capacity. See vehicle Owner's Manual for details.
2Available based on a full charge. EPA estimates only. Actual range will vary based on several factors, including temperature, terrain, battery age, and vehicle loading, use and maintenance.
3Available based on a full charge. EPA estimates not yet available. Actual range will vary based on several factors, including temperature, terrain, battery age, and vehicle loading, use and maintenance.