New Volkswagen SUV Lineup

Shop VW SUVs
The Volkswagen SUV lineup is here to offer multiple optimal options for families searching for a larger car that is up for faraway fun. All of these SUVs are capable of taking on any challenge, and though they vary in size, design, and fuel source, we recommend surveying them all as you zero in on a particular model and trim. It all depends on how you see yourself driving your next SUV. Do you want to be able to take it any place at any time? Will you need a big cabin to stretch out in on long road trips that can feel like there's no end in sight? What kind of fuel do you think should fuel your family's future forward? You'll have your own answers to all of those questions and more after reading our comprehensive guide to the Volkswagen SUV lineup.
When you're done, you'll know exactly what you're looking for the next time you step into a VW dealership, and you'll be ready to begin when a friendly showroom staff member greets you with a warm, welcoming smile.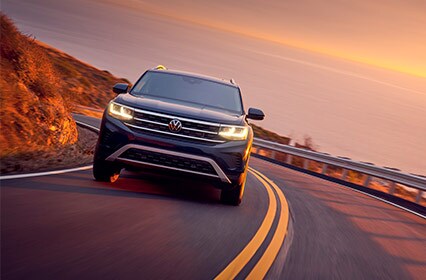 Volkswagen Atlas
Take control of the Volkswagen Atlas for an immersive family experience inside an SUV that your most precious passengers will love. Make the most intriguing action of the television come to life through a large vehicle that always remains in charge. If you're still unsure about what this heavy hauler can do for you and your loved ones, ask the experts. The VW Atlas was named the Cars.com Family Car of the Year yet again recently, thanks to a suite of standard safety features that keep your focus where it matters most.
---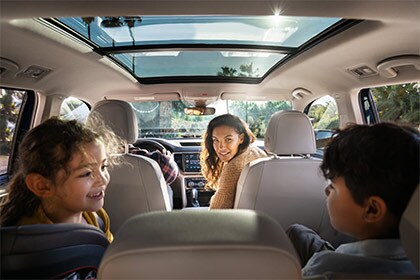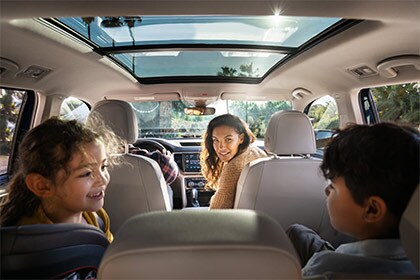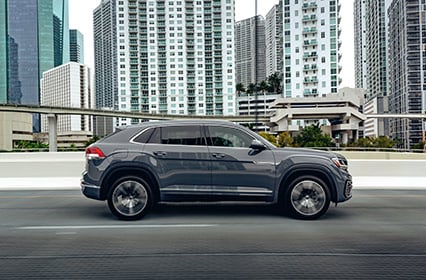 Volkswagen Atlas Cross Sport
This midsize SUV from Volkswagen embodies the do-it-all spirit embedded within each Volkswagen vehicle but in its most versatile form. Slide into seats that feel like a hearty hug from a long-lost pal and enjoy a bigger body fit for a more powerful performance than smaller SUV models. Feel the roar of 276 hp and 266 lb-ft of torque inside a 3.6L V6 engine that's not content to let the larger members of our SUV lineup have all the fun. Pack five inside this thrill ride for maximum good times.
---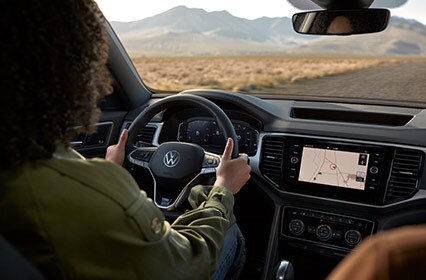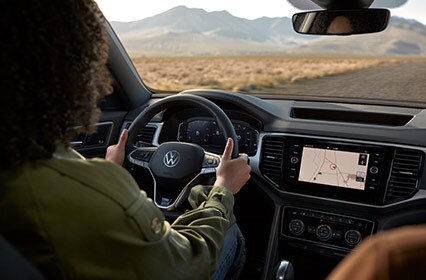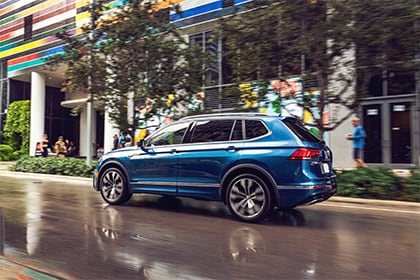 Volkswagen Tiguan
The Volkswagen Tiguan is the undisputed king of the jungle — a big and bold barrier-breaker that seats up to seven passengers and has adjustable seats that fold down so you can fit whatever you need behind you. If you're embarking on a lengthy trip that's going to require each passenger to have some room to themselves, the Volkswagen Tiguan is the way to go. Cramped quarters that make every passing hour seem longer than it is are a thing of the past. All aboard the Volkswagen Tiguan! Family fun awaits!
---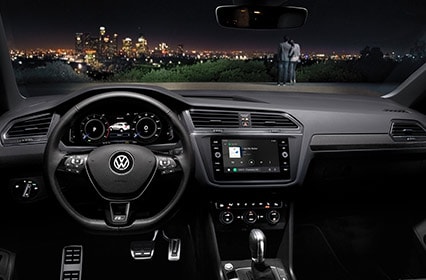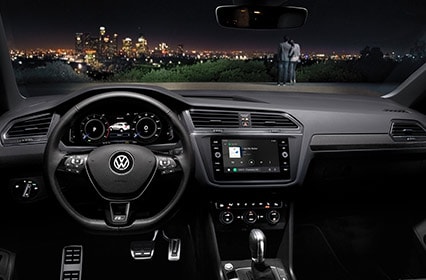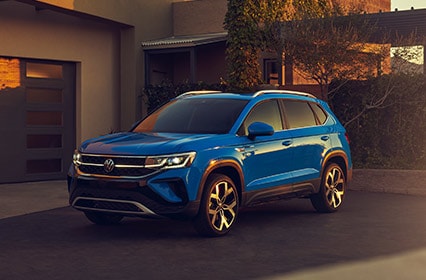 Volkswagen Taos:
We can't wait to see how this compact SUV takes off when it comes out from the curtains completely and becomes available for eager VW drivers nationwide. The VW Taos SUV has a style you can't ignore; it's like a look that causes all kinds of frenzied scribbles and picture-taking as a model struts her stuff during Fashion Week in a foreign land. Terrific tales that have yet to be told are clearly in the cards for the Volkswagen Taos. It's a big splash in the VW SUV lineup; don't be fooled by the smaller package.
---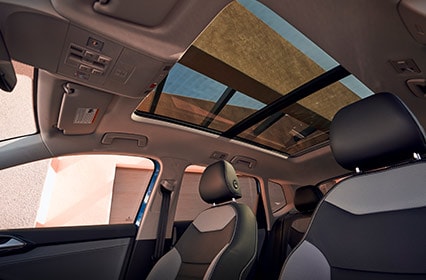 Base price:
$24,190. *est.
MPG:
28 city / 36 hwy *est.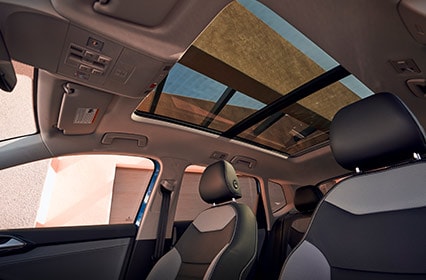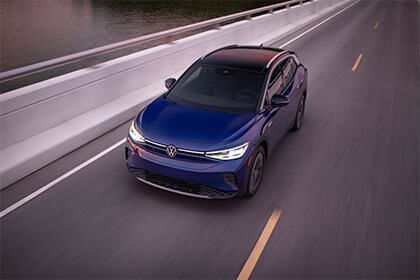 Volkswagen ID.4
The first Volkswagen electric SUV has arrived, and it isn't here just to look cool. Climb into a cabin complete with futuristic driver-assistance technology that compliments emission-free electric power and premium LED projector headlights that allow this model to shine even more than it already does. Reserve your VW ID.4 online from the seat of your favorite recliner or through one of our staff members today. The opportunity to access premium power that doesn't harm our atmosphere cannot be slept on any longer. Charged-up car geeks are already adding them to their car collections.
---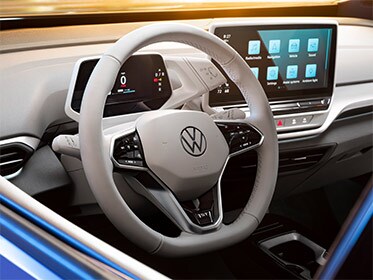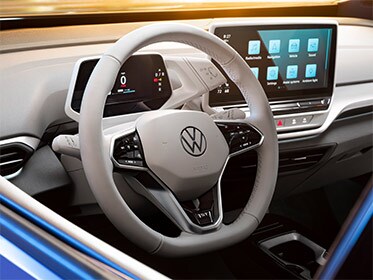 VW SUV Sizes
As we mentioned at the top, one way to break down the various Volkswagen SUV models is by size. Our new Volkswagen SUVs each have their own size slot, ensuring that, no matter your preference, you'll find an SUV fit for your driving desires. From compact to full size, this bruising brigade of Volkswagen SUV models can deliver daily.
If you want a Volkswagen SUV that can check all the boxes in bold style and leans on a turbocharged engine for premium power that comes in a compact package, consider the upcoming 2022 Volkswagen Taos. This Volkswagen compact SUV has everything you're looking for from an SUV that can still fit into the last parking spot before the loading zone and more. Free from the bulky, boxy dimensions that larger SUVs tend to embody, this carefree crossover has plenty of room inside its cabin. Enjoy available luscious leather seats that take the meticulously crafted ambiance of a top-tier luxury sedan and transport it into a larger dose of high-class comfort. If the skies are open and the moon or sunset is worth an unfiltered view, open up the available panoramic sunroof and become one with the beautiful scenery unveiling itself to you as the miles pile up.
Similar compact SUV dimensions can be found on the Volkswagen ID.4, an all-electric SUV that's set to forever change how SUVs rely on alternative fuel sources. Volkswagen didn't just dip its toe into the water with their first purely electric car; it jumped in with a cannonball styled so sweetly and offering so much range that the First Edition has already had all of its orders fulfilled. If you want an SUV that always starts the day on a full tank and gets the job done without releasing harmful emissions into the air, this is the Volkswagen electric SUV for you. It seats five and has plenty of passenger volume for all, not to mention an impressive amount of room to stack suitcases, beach towels, and practice gear for a Volkswagen compact SUV.
The Volkswagen Atlas Cross Sport is an outstanding option for those who don't need their SUV to seat more than five but still want to provide plenty of room to stack gear, travel bags, and more when they leave the house. This Volkswagen midsize SUV has the most cargo room in the entire lineup with the rear seats folded down and tops out amongst its Volkswagen brethren when the seats are upright as well. You'll love this long profile that's made to fit whatever you need to bring out for the weekend. But don't let the slightly smaller silhouette fool you. This midsize SUV can bring just as much power, if not more, than some of its rivals that boast bigger foundations. An available V6 engine is the move to make for those who want to get the most out of an SUV that chases adventure, like the budding duo of buddies in your favorite Saturday morning cartoon.
If you want the heftiest haulers in the shop, find your way over to our full size SUVs. These seven-passenger SUV stalwarts stand out from other large SUV options because they have excellent passenger volume and elite cabin capabilities that provide a first-class driving experience wherever you choose to glide effortlessly towards. When you settle into the big league comforts of the Volkswagen Tiguan and Volkswagen Atlas, you'll understand quickly that these imposing options are the culmination of countless hours spent crafting some of the brand's biggest cars on the market. This is size with style and substance. Keep your focus where it needs to be and steer your ship with premium precision, no matter how rough the seas are riled up today.
| | Atlas | Atlas Cross Sport | Tiguan | Taos | ID.4 |
| --- | --- | --- | --- | --- | --- |
| Cargo Capacity: | 20.6 cu. ft. / 55.5 rear seats folded | 40.3 cu. ft./ 77.8 rear seats folded | 12 cu. ft. / 65.7 cu. ft. rear seats folded | TBD | 30.3 cu. ft. / 64.2 cu. ft. rear seats folded |
| Passenger Volume: | 154 | 112 | 123.9 | TBD | 99.9 |
| Front Headroom: | 41.3 | 39.4 | 39.6 | TBD | 41.1 |
| Front Legroom: | 41.7 | 41.6 | 40.2 | TBD | 41.1 |
| Rear Headroom: | 40.4 | 37.8 | 39.1 | TBD | 38.4 |
| Rear Legroom: | 37.6 | 40.4 | 36.6 | TBD | 37.6 |
VW SUV Prices
Another way VW SUVs trounce their fellow vehicles is by offering starting price points that make sense. You won't pay a fortune for a car filled with features that don't make driving better. Every additional dollar you do spend will prove well paid through several available packages and upgrades that allow VW drivers to put a personal touch on their cars. Design something that's truly yours by exploring the various trim options and packages piled up within the Volkswagen SUV lineup. If you're going to make the commitment to purchase or lease a new car, you should feel like it was crafted just for you. Don't get stuck driving a cookie-cutter car that you regret pulling out of the garage in.
When the Volkswagen Taos emerges fully in 2022, it is estimated to be the entry point price in the Volkswagen SUV lineup. As a compact SUV, it offers plenty of pep in its step and room for growing limbs at a very preferable price. The car that costs the most in terms of the initial price point would be the Volkswagen ID.4. Though it does have a listed price that looks down on its fellow Volkswagen SUV models, you'll save money every time you fly by the gas pump to go charge up at home. Can other cars charge up to their full capacity without your ever having to open your wallet? Didn't think so.
As for the packages, that's all about how you see yourself driving to future great times. Do you need the towing package to add some pulling power to one of our more massive SUVs? That will allow you to bring personal watercraft, small fishing boats, plenty of tarps and tent poles, four-wheeled off-road runners, dune buggies, and more. If you're looking for a little more style inside your cabin, upgrade to the Statement Package for faux-leather upholstery on seats that adjust and massage as you ride. It's an artist's eye, an architect's spatial awareness, and a spa's tender touch rolled into one.
Frequently Asked Questions About the Volkswagen SUV Lineup
Vehicle experts in Volkswagen showrooms all around the country are fielding questions on the Volkswagen SUV lineup. Here are some of the queries they're fielding most often from eager drivers like yourself who need to know more about all of our Volkswagen SUV models.
The full size SUV options in this year's Volkswagen SUV lineup have plenty of room for all the passengers you can muster. Not only can you seat seven inside the Volkswagen Tiguan and Volkswagen Atlas, but those passengers will also have some space to themselves once they've settled down inside. A couple of wayward arms reaching skyward during a yawn from one of the center seats won't set your cabin into a physical frenzy anymore. Everyone has their own room to maneuver and an outlet to plug into. Isn't that what a big car is really supposed to bring to the table?
The Volkswagen Tiguan and Volkswagen Atlas are the largest models in the Volkswagen SUV lineup for this year. Those looking for even more roomier automobiles to roll out in should keep their eyes peeled for a reboot on the classic Volkswagen bus, rumored to be in development for release in the coming years.
The highest cargo capacity belongs to the long, strong, and adjustable frame and setup of the Volkswagen Atlas Cross Sport. It's made to fit anything and everything, whether you have to tie it down, stack it up, wedge it against other items, or just give it that final shove to get the door down on top of it. The seats fold down in this midsize SUV, and that opens up enough cargo space to rival any cargo ship... Okay, perhaps that's a bit of a stretch. But the thing is, so is the cargo volume of the Volkswagen Atlas Cross Sport.
We don't have official specifications out for the Volkswagen Taos, but all other models do list a towing capacity. The VW ID.4 has a very impressive towing capacity for an electric-powered vehicle, and the aforementioned available towing package adds even more grit to several SUV models that aren't afraid to grind. As you might expect, larger SUV models tend to tow more than their smaller, more compact counterparts. If you're looking to bring a lot behind you on your next trip to the great outdoors, go with a full size or midsize model and consider adding the towing package after going through it with a VW vehicle expert.
Full size SUV models like the Volkswagen Atlas and Volkswagen Tiguan outweigh and outsize midsize models like the Volkswagen Atlas Cross Sport. Both are bigger than compact SUV models or crossovers, which bridge the gap between the gargantuan SUV models that fill entire highway lanes to the brim and the rest of the cars that stack up smaller.