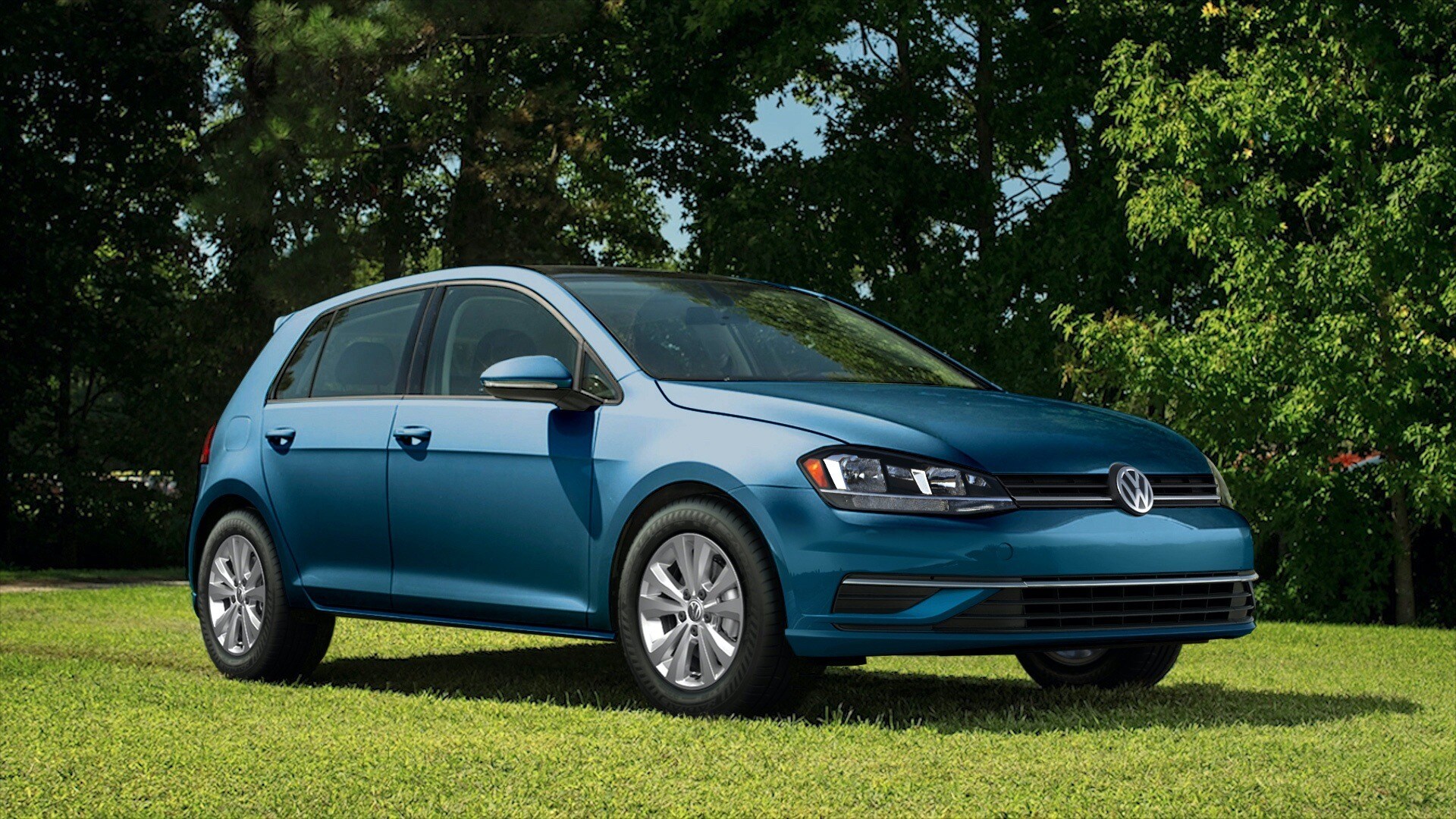 The New 2020 Volkswagen Golf

The 2020 VW Golf is the perfect hatchback for any and every consumer. This VW Golf has a 147-hp turbo engine with four-cylinders, making it a fun car to drive and still a suitable option for a daily commute. A "regular" Volkswagen Golf is more affordable than a GTI, and with 81 fewer horses it's not quite as fast. However, it's an impressive option that is fuel-efficient and very practical. Those looking for a compact Golf hatchback will find everything they want in this year's model.
There are also some welcome changes to the 2020 vehicle. It's more streamlined with just a single trim known as the TSI. This does increase the cost slightly from 2019, but you're also going to get some more desirable features that come standard. For example, you will enjoy 16-inch wheels in the 2020 VW Golf along with faux-leather and vegan-friendly upholstery. Drivers love the heated front seats along with a panoramic sunroof. Complete with a push-to-start button, passive entry, and heated windshield washer nozzles, all the bells and whistles you'd expect from the GTI can now be found on the VW Golf.
How Much is a New 2020 Volkswagen Golf?
The Volkswagen Golf TSI starts at just over $24,000, making it one of the most affordable options you can choose. Starting in 2020, the manufacturer has created a singular Golf that's great for everyone, which makes it easier than ever to narrow down your selection. However, there is one question that will affect price: do you want to stick with the standard manual transmission or upgrade for $800 to the eight-speed automatic? The first option is obviously reserved for those who really adore the joy of manually driving and who want a little extra oomph.
Regardless of what type of transmission you choose, every 2020 Golf comes with state-of-the-art Car-Net remote services and a Wi-Fi hotspot. Both require subscription services, of course, but it's well worth it for the vast majority of drivers who want more from their vehicle than just getting from point A to point B.
 
How Much Does a 2020 Volkswagen Golf Weigh?
The 2020 Golf weighs just about 3,000 pounds with some variation depending on transmission chosen. It's just the right amount of power in this vehicle to handle the weight, and it's easy to propel this hatchback along highways or back roads. You'll never be lacking power, even if you're used to something a little snappier like the
2020 Volkswagen Golf GTI
. Those who have tested out the
2020 Jetta
will see a lot of similarities in performance here, and if you're a long-term Jetta fan you might be swayed by everything the 2020 VW Golf delivers.
Ultimately, if you're just zipping around town, you'll be more than happy with the power the Golf offers. It's only when trying very high-speed changes, like passing on busy highways, that you might find other Volkswagens can outpace the Golf. Is this a dealbreaker? Absolutely not. In fact, it's rare that you're going to need such high performance in your typical vehicle. The Golf certainly won't bore you on road trips, and it keeps you safe by hugging curves and corner closely. The steering is the standard, unerring precision you've come to expect from VW.
Test Drive the 2020 Golf
Reading about specs is one thing, but the only way you'll be able to tell if the 2020 VW Golf is for you happens during a test drive. That isn't feasible or safe for everyone right now, and although our dealership and showroom follow the latest guidelines by the CDC and local governments, we are offering a
Volkswagen Virtual Test Drive
instead. It's the next best thing to actually getting behind the wheel yourself! Some customers are happy to make their final selection through just a virtual test drive, while others consider this virtual drive a way to narrow down their final selections.
Check out the
new VW specials
happening right now at Jim Ellis Volkswagen Kennesaw and discover your new 2020 Volkswagen ride.