We had a ton of fun with a great crowd of 140 + guests in attendance. We played, laughed, danced and even did the limbo a few times! Watch the video now!
The Accounting department was the crowd favorite with a 2018 Atlas decorated in a pirate theme. Kids loved playing pirate hook ring toss.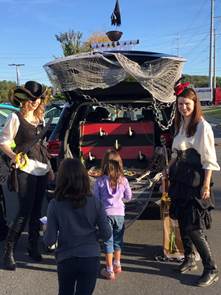 Our Parts department choose a Charlie brown theme using a new 2017 Volkswagen Golf. Kids had fun putting a golf ball through a giant pumpkin. Our parts Manager, Charlie Kimsey even dressed the part of Charlie Brown!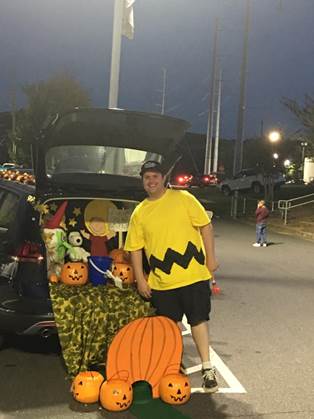 The service department decided to use our Groovy Scooby Doo shuttle van & kids enjoyed trying to solve a Halloween mystery for prizes. Do you know what you get when you cross a snowman with a vampire? The answer, Frostbite!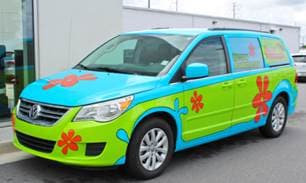 Our Finance Team decided to decorate a new 2017 Beetle Dune Convertible with a witch theme! Kids received extra prizes if they could get 3 in a row playing witch hat toss!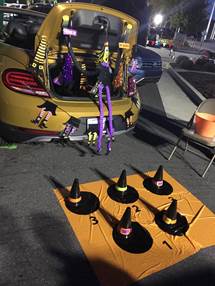 The Internet Department decorated a new 2017 Golf Alltrack with the Monsters Inc. theme. Playing pin the eye on Mike was a ton of fun!

Our Pre-Owned Sales Team decorated a Certified Pre-Owned Volkswagen Golf GTI. Guest were able to pull a lollipop from the pumpkin, if they picked one with a mark on the end of stick they received an additional prize!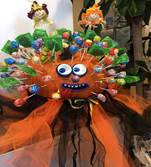 The New Car Sales Team used a white 2017 Volkswagen Passat for a Ghostbusters theme! It was tons of fun for the kids to shoot the hanging ghosts with a rubber band shooter!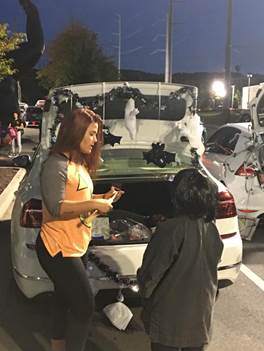 We were honored to be joined by Bowlero Kennesaw. They did a great job decorating a new 2018 Tiguan & kids loved received free bowling & laser tag certificates.

Kyle Smith, a Jim Ellis Volkswagen Kennesaw customer and former employee did a fantastic job in the DJ booth & his band the Six Strings South Combo sounded fantastic!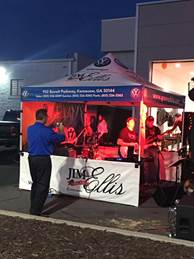 The costume contest was a hoot! We had three winners! The cutest costume, an adorable baby owl that blew kisses to the crowd! The scariest costume winner was a very creepy reaper. However it was "Root" that won the prize for the Best Costume dressed in a homemade customer designed to look like a tree stump.

In addition to candy our adult guests enjoyed a variety of door prizes ranging from $50 gift cards to our VW Parts Boutique to complimentary wash and wax detail certificates. It truly was a fantastic evening & we can't wait to do it again next year!