Jim Ellis Automotive Group Proudly Supports First Responders

Join Us in Celebrating and Supporting First Responders

Jim Ellis Automotive Group is proud to support our local first responders - the courageous men and women that serve and protect our communities. And you can help!

Join us as we pay tribute to law enforcement, firefighters, emergency medical technicians and all others who sacrifice to keep our local communities secure. To show our thanks, Jim Ellis will make a cash donation to local police and fire departments for every new and pre-owned vehicle purchased in the month of May. It's a wonderful opportunity for our organization to partner with valuable customers like you, and to give back to those who make our safety a top priority.

As you consider where to purchase your next vehicle, we hope you'll choose Jim Ellis. Visit any of our 14 family owned and operated dealerships, take advantage of our everyday savings and enjoy a great car buying experience. All while supporting a great cause.

And to all the brave men and women who put their lives on the line every day, thank you for your sacrifice and service.

Jim Ellis Automotive. Where you can always expect the best.

______________________________________________________________________________________________


As a token of our appreciation for all you do, we are proud to offer qualifying first responders (including retired first responders)
special discounts on vehicle purchases, parts and service. Take advantage of the following savings all year long!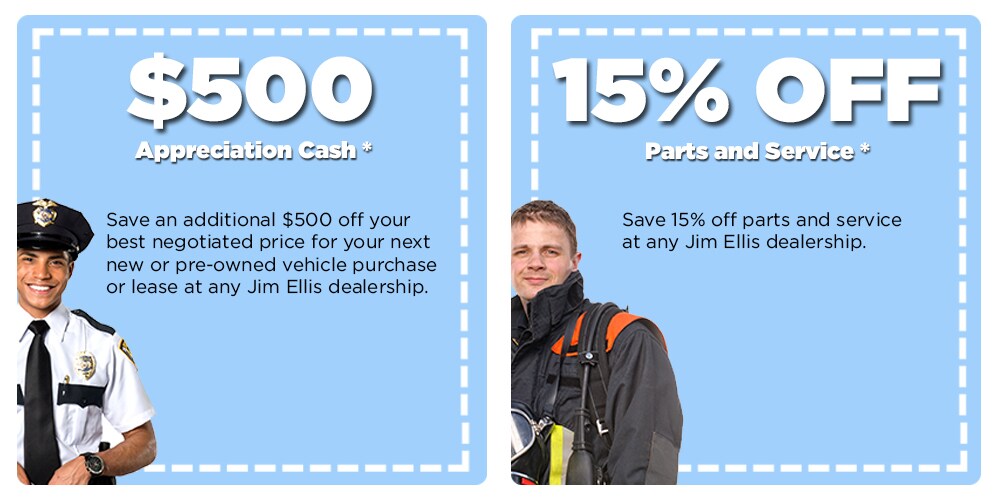 It's easy to take advantage of our special first responder savings. Simply visit any Jim Ellis family dealership, notify a sales associate that you're a First Responder and present your First Responders I.D. Eligible First Responder occupations include:
Law Enforcement


Federal Law Enforcement Officer


Fire

EMT

*If your occupation isn't listed, you may still qualify for this incentive. Please see dealer for complete details and eligibility. First responder incentives may not be combined with other offers. Maximum savings for 15% discount is $500. Must present official first responder I.D. at time of purchase or service. Offer not redeemable for cash. Excludes supplier or employee pricing programs. Limit one discount per customer per visit. Some restrictions may apply. Offer expires 12/31/17.