Taste the Volkswagen Taos SUV In Kennesaw, Marietta, & Alpharetta!
The new 2022 Volkswagen Taos offers a familiar build, but with a unique twist on what it means to be an SUV. While the styling is similar to that of a typical new Volkswagen vehicle, with approximately 28.1 cubic feet of space and a carefully planned interior, this model still highlights some unique touches. For instance, the VW Taos sports an uncluttered dash, along with a unique new steering-wheel design featuring a distinct, new logo. Need to know more, like VW Taos safety features? Keep reading, and let's unpack the Taos together.
Important Things To Know About the New VW Taos for Sale
The Volkswagen Taos is the smallest Volkswagen SUV to-date. In fact, it's an entire 9.3 inches smaller than its next closest cousin, the VW Tiguan. With the decrease in stature under other SUV models also comes a smaller pricetag — an element that all Volkswagen lovers can (and do) get behind. The VW Taos for sale offers two comfortable rows that are incredibly roomy, especially given its smaller frame.
The basic engine is a 1.5L turbocharged TSI inline four-cylinder that offers up to 158 horsepower and 184 pound-feet of torque. It's mated to an eight-speed automatic transmission. Interior options come in Black or French Roast, a subtle, soft brown that creates a calming interior space. Speaking of the interior, it offers up to a maximum of 65.9 cubic feet of space for any and all goodies you want to bring along.
Shop VW Taos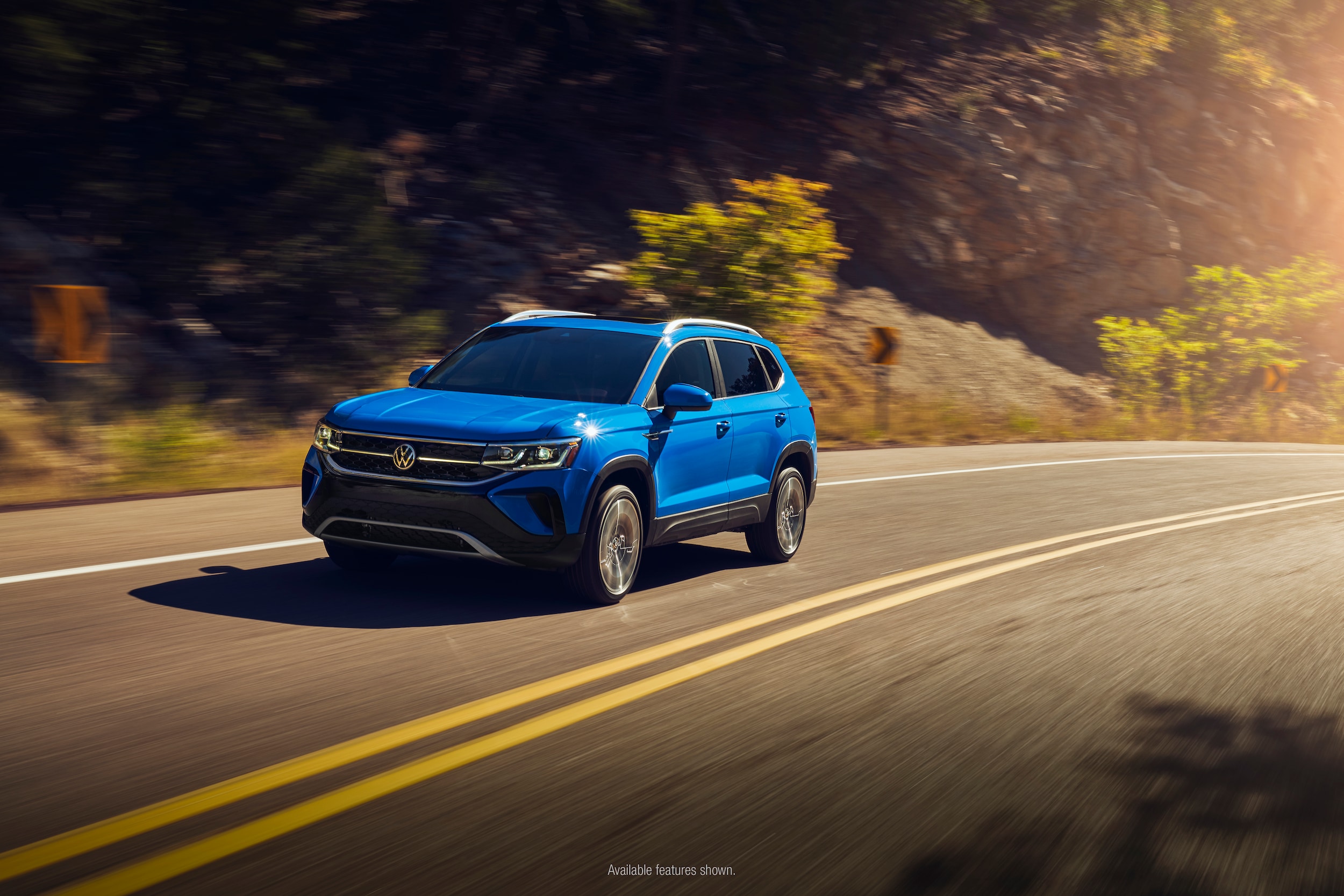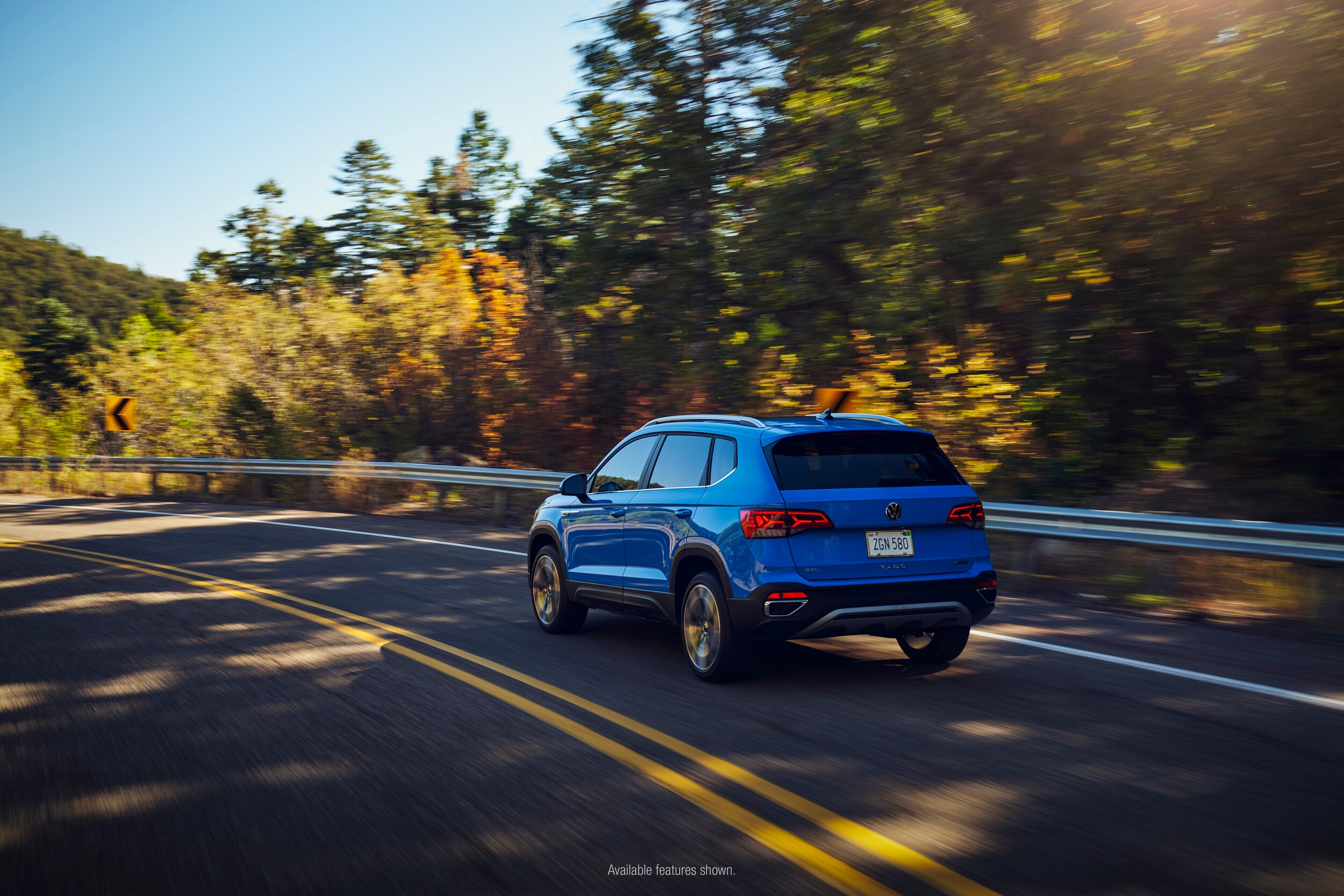 ---
When is the VW Taos Release date?
The long-awaited debut of the Volkswagen Taos has finally arrived at our doorstep, and we couldn't be more excited to share this subcompact SUV beauty with you. Local drivers should get down to our dealership in Kennesaw, GA, and get behind the wheel of a new model that's set to take the SUV game by storm. The cabin's filled to the brim with futuristic features and amazing automated driver assistance. If speed, strength, technology, and adaptability are at the top of your list, take note of the first-ever version of the VW Taos.
Frequently Asked Questions About 2022 VW Taos
How much will the VW Taos cost?
Please check our inventory for available price options
Shop VW Taos
How big is VW Taos?
The 2022 VW Taos will replace the VW Tiguan as the new smallest Volkswagen SUV. But, don't worry. You and your friends will still have plenty of space to sit comfortably. The Taos has 37.9 inches of rear legroom, which is only 0.8 inches less than the Tiguan has. You will also get 28 cubic feet of trunk space and 66 maximum cubic feet with the rear seats folded. This SUV will be compact but still have the versatility and space for what you need.
What will the fuel economy of the VW Taos be?
According to MotorTrend, the 2022 Volkswagen Taos will have Best-In-Class highway MPG. The Taos is expected to get an EPA-estimated 28 city and 36 highway MPG.1 These are excellent numbers for an SUV. In the very competitive compact SUV class, having excellent fuel numbers is a huge plus for the 2022 VW Taos.
Something to Get Excited About
As we'd expect, the new VW Taos rivals other notable introductions to the 2021 and 2022 lineups. Innovative models like the all-electric Volkswagen ID.4 are making waves in the automotive industry. What do the new ID.4 and the Taos have in common? They both offer spacious, well-planned interiors with efficient builds.
2022 VW Taos Arrived!
We're just as pumped about the release of the new VW Taos in Atlanta, GA.
Learn More About The VW Taos
---
1EPA estimates only. Your actual mileage may vary.