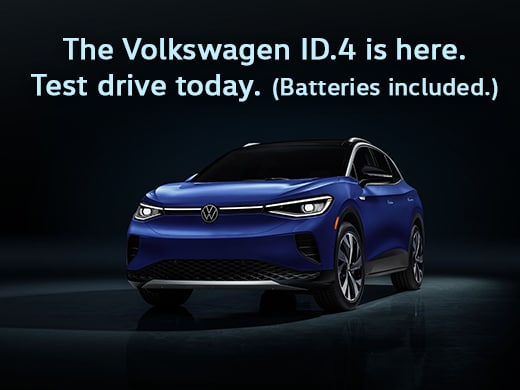 ---
Schedule Your ID.4 Test Drive!
---
The VW ID.4 release date is upon us- it's so close we even have our demo unit available on site NOW! VW brand enthusiasts and EV fans everywhere have been on pins and needles since the concept version of the VW ID.4 debuted at the Frankfurt Auto Show in 2017 (you can also find out more about the vehicle itself on our VW ID.4 model page). It's been three long years since the forthcoming EV from Volkswagen has turned heads. Once you place your order, you can even track your status from the assembly line, sea voyage, and arrival at the dealership. Given the immediate fulfillment of 1st Edition VW ID.4 models, VWOA customer service representatives have been making some of our customers very excited. It's now 2021 - a year like no other. And the silver lining that we've all been waiting for with respect to the VW ID.4 release date is here!
Schedule Your ID.4 Test Drive Today!
Our first Volkswagen ID.4 demo vehicle has landed at our Atlanta dealership! So if you've wondered what the ID.4 will look like, how it will drive, and what features it will have, you can check it out for yourself prior to ordering. Contact one of our VW ID.4 specialists to schedule your test drive. We're filling up our earliest slots now, but don't worry, we'll have this demo here for about six months. You're always welcome to swing by and take an available time slot. Our EV specialists will be on hand to answer any of your questions and assist with pre-ordering your ID.4.
USA Release Date for the ID.4: DECLASSIFIED.
The entire Jim Ellis VW of Kennesaw team is thrilled to announce a pretty important date in the VW brand's history. But before we do, let's take a look at some of the key moments that have defined the brand we all love so much:
1932 - The People's Car Project began. In a market dominated by the ideas of elite status and luxury, it became clear that the vast majority of Germany's people needed affordable, versatile transportation.
1961-1973 - The Golden Years. This is the time when the Volkswagen brand made an imprint on freedom-loving Americans. The popular VW Beetle took the country by storm, and we also saw the birth of the VW Golf.
2011 - VW is Made in the USA. Volkswagen completes the Chattanooga Assembly plant in Chattanooga, TN. Most models available in the USA are produced here, and the factory has plans to expand. Additionally, Volkswagen embraces better work-life practices that help all employees avoid burnout.
2017 - VW Group CEO Herbert Deiss declares that a transition to EV vehicles is a matter of survival. Deiss states that "Climate change will be the biggest challenge mankind is facing." Given project development needs, the projected release date for the VW ID.4 was TBD.
December 2020 - The VW ID.4 release date is revealed.
March 2021 - The VW ID.4 demo vehicle has arrived at our dealership and is ready for you to test drive!
Drumroll, please. Are you doing one? C'mon, it makes it more fun. Now? Ok. According to customer service representatives from Volkswagen of America, those customers who have already placed their orders on the VW 1st Edition model, the next generation of the people's car will be in your hands as early as Mid-March, 2021.1 How's THAT for an official answer to the VW ID.4 release date? Additionally, premier VW dealerships (wink-wink, nod-nod) will also have their hands on demo units available for test drives. There you have it, folks (or should we say "Volks"). The first batch included in the VW ID.4 release date is finally here.
The Service at Jim Ellis Volkswagen of Kennesaw is Electric
We are one of the oldest and largest Volkswagen dealers in the area. As such, we've got one of the most expansive inventories for you to choose from. And as a premier VW dealership, you can expect our product knowledge and love of the VW brand to be without equal. If you're interested in grabbing your VW ID.4 before the remaining order call is full, one of our EV specialists can help make that happen. Keep in mind that the VW ID.4 release date for the eAWD version will be later on in 2021. The VW brand has always been there as a symbol of affordable mobility and freedom, and these times are no different. Our EV MEB platform is designed to go the distance, and the range anxiety that early hybrids and EVs generated is truly a thing of the past. You can charge your VW ID.4 from nearly empty to 80% full while grabbing lunch on a road-trip, and by the way, you'll also enjoy three years of complimentary fast charging through Electrify America (ask your EV sales specialist for details). Now, when is the rebirth of the iconic VW EV Microbus? All in due time...
More About The ID.4
1https://www.vwidtalk.com/threads/vwoa-just-called-about-my-id-4-reservation.566/