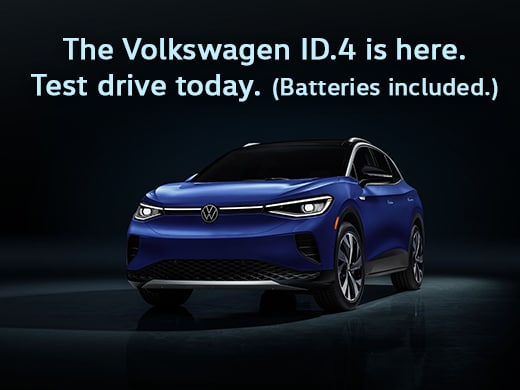 ---
Schedule Your ID.4 Test Drive!
---
The Volkswagen ID Crozz (now in production as the ID.4) is the direct descendant of the revolutionary spirit that VW stamped onto the 1960s with its carefree vehicles that suited the era. Those cars became an American icon when change was everywhere in this country. From every street corner to the farthest corners of our nation, people needed an accessible way to travel while contributing to something much greater. Today's car-culture also means championing a cause and once again, Volkswagen is there. Recently, Volkswagen C.O.O. Ralf Brandstätter outlined the company's mission, "For Volkswagen, the course towards the future has been set. On the basis of the Transform 2025+ strategy, the brand is developing into one of the leading providers of carbon-neutral mobility." With the future of the automobile on everyone's mind, Volkswagen is making sustainable change possible for everyone. Jim Ellis Volkswagen of Kennesaw is thrilled to bring you the highly anticipated Volkswagen ID.4 in early 2021. Versatile, capable, and affordable, VW can now add sustainable to its list of brand values as it pushes the envelope toward a climate-neutral future. Stay tuned as we continue to update you with exclusive model news on this page!
Schedule Your ID.4 Test Drive Today!
Our first Volkswagen ID.4 demo vehicle has arrived and is ready for you to test drive! So if you've wondered what the ID.4 will look like, how it will drive, and what features it will have, you can check it out for yourself prior to ordering. Contact one of our VW ID.4 specialists to schedule your test drive. We're filling up our earliest slots now, but don't worry, we'll have this demo here for about six months. You're always welcome to swing by and take an available time slot. Our EV specialists will be on hand to answer any of your questions and assist with orders.
ID Crozz Concept Car Dimensions & Interior
Forget about modern. The ID.4 is downright futuristic. Considering it's a concept vehicle that is still evolving, we can count on other Volkswagen EV vehicles benefiting from the technology found in this ground-breaking model. In fact, the ID.4 was the basis for what we now see as the ID.4 production vehicle. The ID.4 has intuitive safety features that are almost human in functionality. Imagine standing on a street corner looking to cross. How do we typically communicate with drivers inside vehicles as they approach an intersection? We look, make eye contact, and then determine what to do next. Now imagine standing on a street corner, looking at an ID.4 approaching you that is driving itself. Its headlights can wink, squint, stare, and signal to you, indicating direction of travel intent.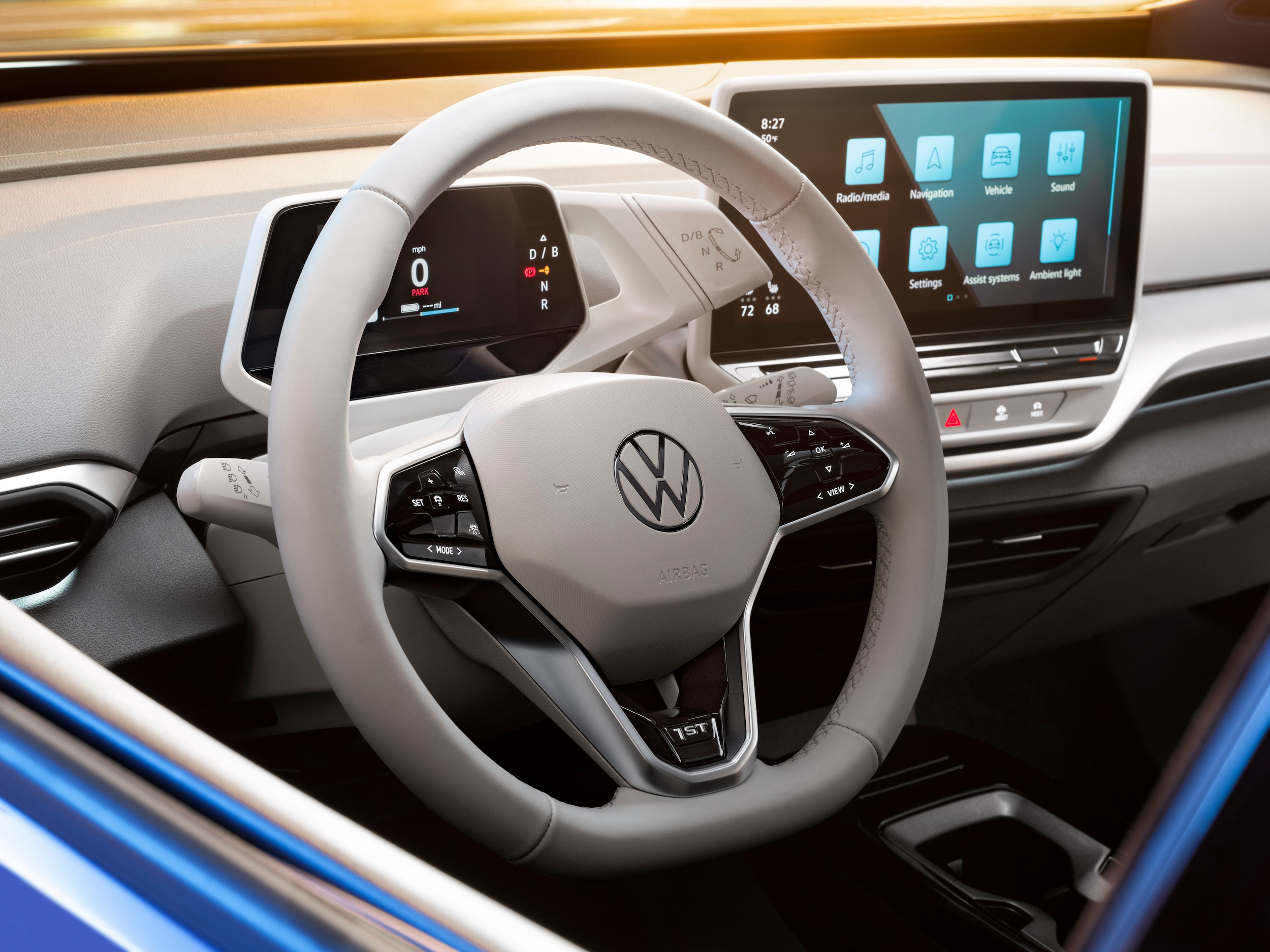 The ID.4 (and the production-ready version known as the ID.4) is a crossover SUV. With an overall length of 180.5 inches, the ID.4 promises copious storage space and sublime passenger room and comfort. The ID.4 is an EV that doesn't compromise interior space. In fact, its advanced technology maximizes cabin utility with all powertrain components tucked neatly out of the way. Early renditions of the ID.4 have forward doors that open a full 90 degrees, with rear doors that slide directly back. This opens the cabin completely, with no B-pillar post, which allows you to open up and say WOW. Rear seats are also configurable to maximize cargo loading. Specifically, you'll have 30.3 cubic feet of storage with the rear-seats up and a jaw-dropping 64.2 cubic feet of storage capacity with them folded down.
ID.4 Specs & Range
Built on Volkswagen's EV-specific MEB platform, the 83-kWh lithium-ion battery tucks stealthily between forward and rear axles. Unique to the ID.4, traction comes from a dual-electric motor powertrain that favors Rear-Wheel Drive until conditions or driving style demand AWD. The ID.4 has a rear-wheel-bias that delivers 201HP instantaneously to the rear axle, and an added 101HP responds immediately on the front axle when eAWD is needed. You needn't do anything.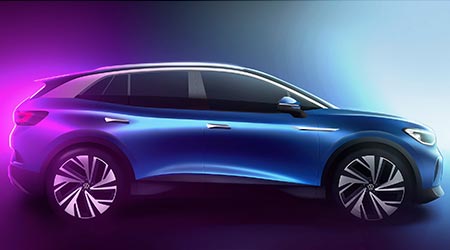 While vehicle usage has a lot to do with an EV vehicle's total range, Volkswagen boasts an incredibly fast charge time from 5% to 80% full-charge. With a stated "38-minutes to 80% full" at a DC fast-charger, there is virtually nothing stopping you from getting to Woodstock on time, no matter where you are starting from. The national network of DC charge-points is currently 16K locations strong and growing, which means all you need to do is stop for lunch, have a stretch, and hit the road again with almost a full charge. Home charging in a conventional power outlet is available, and AC charging is also made easy with the corresponding cable. Many EV enthusiasts ask why batteries can charge faster to the half-way point or almost-full point, and almost as long to a full charge. Think of it like pouring water into a glass. You fill the glass pretty quickly to about 75% and then slow down for the remainder so you don't spill the contents. Batteries protect themselves from over-charge in the last stage of the charge cycle. Thus, the charging of the ID.4 battery is like filling up your glass of water. The ID.4 achieves a fast charge to 80% at 30 minutes and then to full in about 30 minutes more.
So let's talk about what it might be like behind the wheel of your new ID.4… if, in fact, you don't have the wheel retracted into the dash while on autopilot. The ID.4 is making huge waves with its innovative ID Pilot autonomous driving mode. All you have to do is touch the VW logo for three seconds, and the steering wheel will tuck into the dash, ambient lighting will shift to violet, and you're driving into the future. You can come out of autopilot just as quickly by touching the VW logo for three seconds, or by tapping the accelerator, or the brakes. Cameras replace your rearview mirrors, laser scanners deploy from the roof, and alongside your media information, you will have a digital view of the world on your three-tiered information center. Did we mention that the windshield is going to be a virtual data display center as well? George Jetson never had it this cool.
Reserve Your Volkswagen ID.4 In Atlanta Today!
We're ready when you are! Give us a call, send us an email, or drop by our VW dealership near Atlanta to add your name to the list of drivers longing for the ID.4 electric SUV! Jim Ellis Volkswagen of Kennesaw is filling up the first order now. Keep in mind that the first allocation will be filled shortly, so if you are looking to be among the first to lay your hands on one, contact an EV specialist ASAP.
Everything you wanted to know, but didn't have the chance to ask:
What does Volkswagen ID stand for?
The ID nomenclature stands for Intelligent Design. Currently, Volkswagen has released a European spec ID.3 whereas the first ID model available in the U.S. will be the ID.4. On target for 2021/2022 is the ID.Buzz, the modern day descendent of the iconic Microbus.
When can I reserve a VW ID.4?
We're ready when you are! Jim Ellis is filling up the first order now. Keep in mind that the first allocation will be filled shortly, so if you are looking to be among the first to lay your hands on one, contact an EV specialist ASAP.
How much will the ID.4 cost?
All models will qualify for a $7500 retail tax credit. Three models will be available from the Pro ($40K), 1st Edition ($44K), and Pro S ($45K). While the ID.4 has evolved continuously from concept to its current state, the ID.4 continues to undergo development and the final production model is still a work in progress. Read the latest on ID.4 pricing and tax credits.
When is the scheduled release date for the ID.4?
The release is scheduled for March/April of 2021, and our demo unit available for test drives is HERE! Volkswagen has committed to 1.5 million units sold by 2025 and there are currently five facilities worldwide contributing to this effort. IN early 2022, they will be made here, in Chatanooga, TN. Read the latest on the ID.4 projected US release date.
VW ID.4 V. Tesla Model Y. How do they compare?
The ID.4 will cost 50% less than the Model Y. It will have greater tow capacity (2200-2700lbs) than the Model Y, and run at about 25% greater kWh efficiency over the Model Y.
More About The ID.4
Pre-Order Your VW ID.4 Today