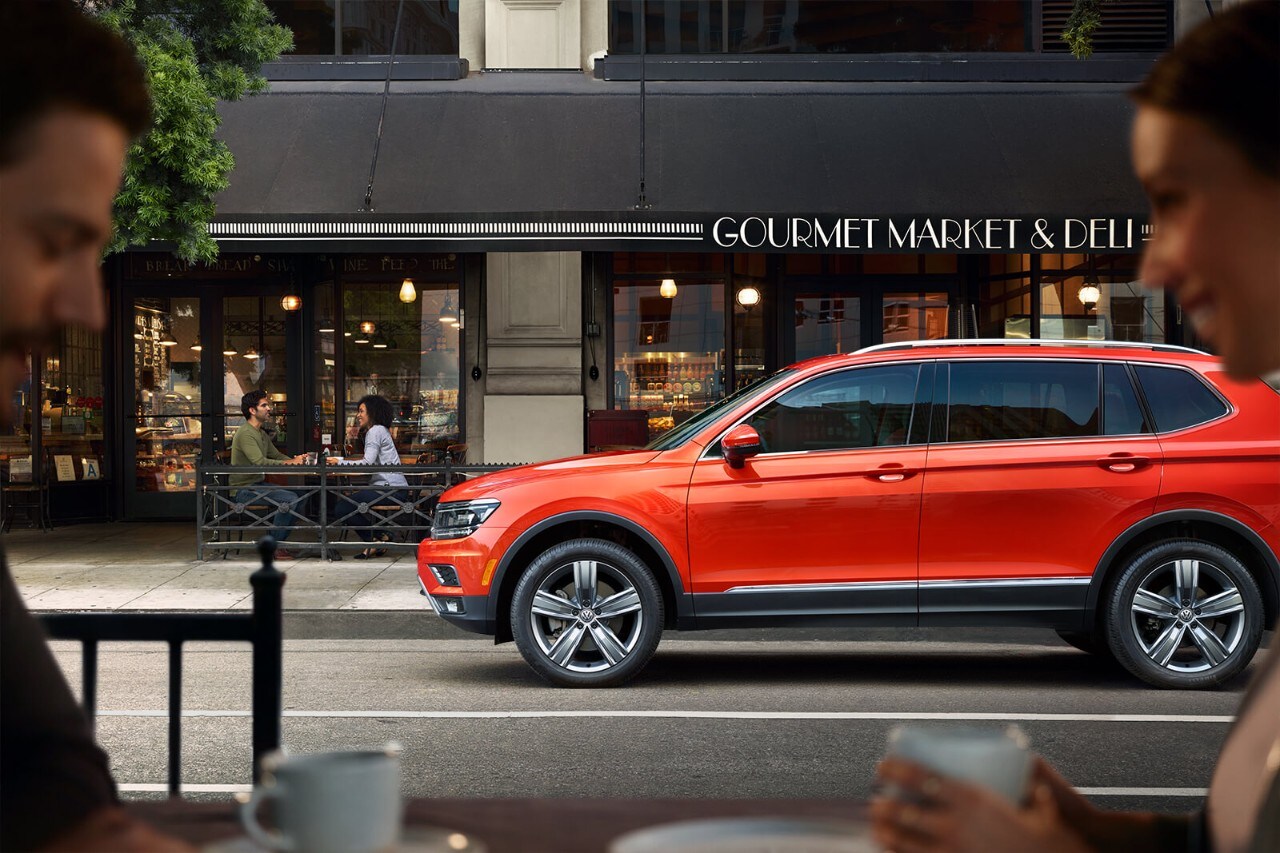 Design
A design of its own.
A bold character line runs from front to back of the new 2019 Tiguan, conveying chiseled strength, while hood contours deliver a memorable statement up front.
Exterior Design
The look of the new VW Tiguan is sophisticated yet capable. Bold styling is everywhere, from the sculpted hood to the strong, sharp character line.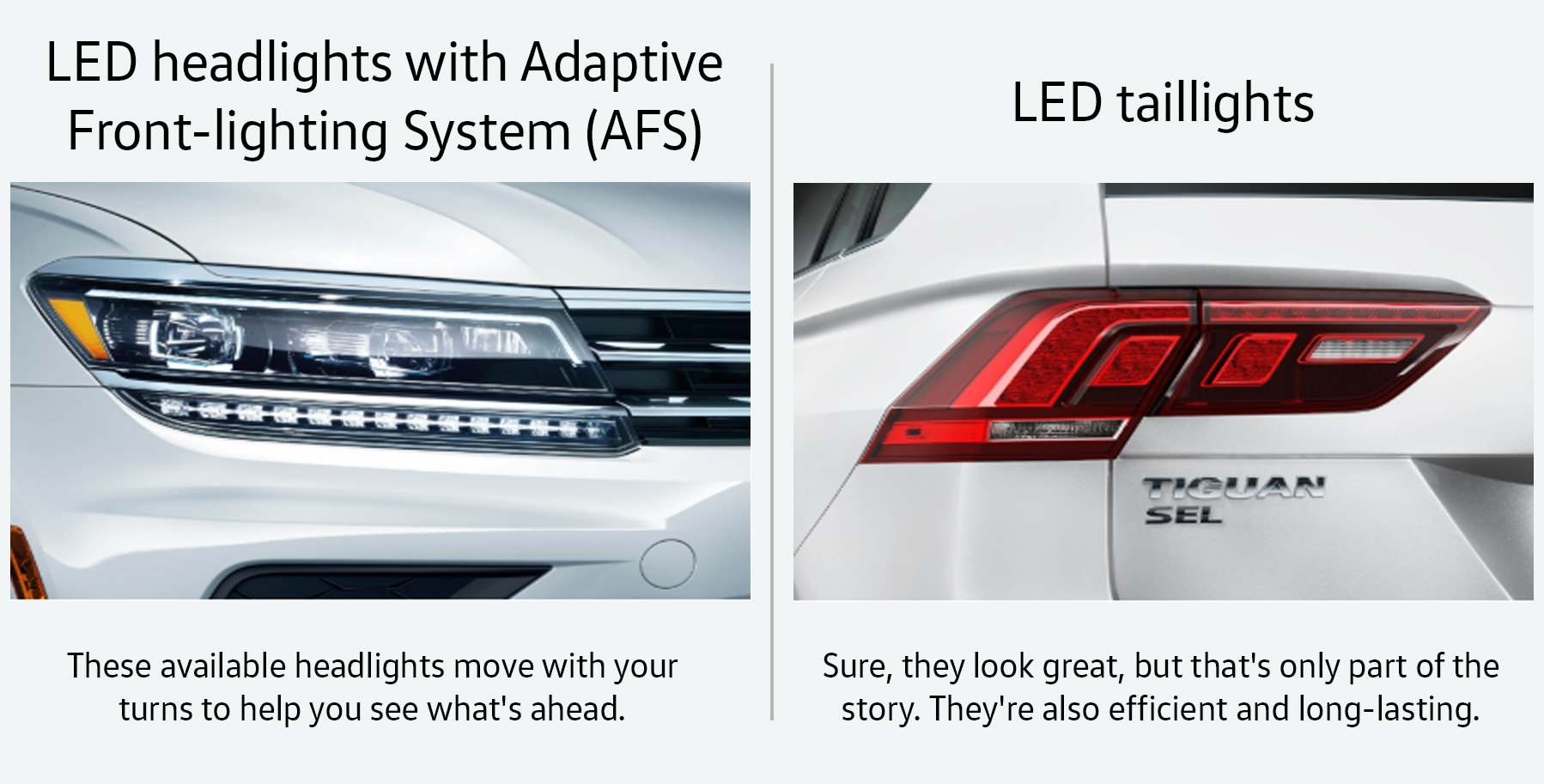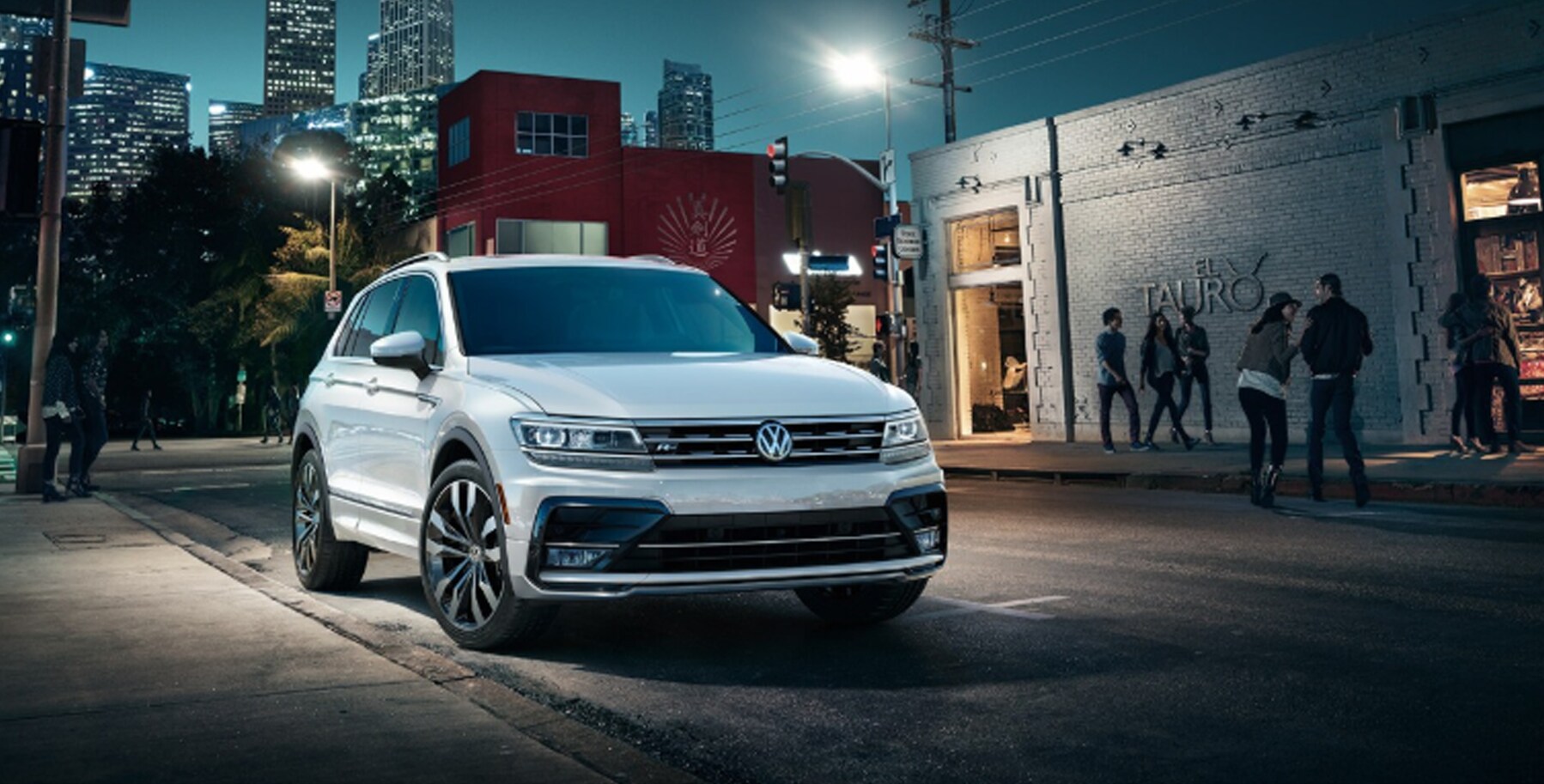 Performance
Reach points of interest. On point.
Comfortable doesn't mean dull. Smooth and responsive on paved roads, the 2019 Tiguan remains commanding and confident even if the road surface becomes more challenging.
4MOTION® all-wheel drive
As conditions change, available 4MOTION distributes power between the front and rear wheels of the 2019 Volkswagen Tiguan as needed to help optimize traction and stability.
Snow Mode
In Snow Mode, the 2019 Tiguan's engine can upshift earlier, which helps keep it in a lower RPM range and helps prevent too much power from going to the wheels too quickly.
On-Road Mode
In good conditions on a paved road, stay in the 2019 VW Tiguan's On-Road Mode, and choose from four different settings combining performance and comfort.
Off-Road Mode
Off-Road Mode can help maintain traction on challenging road surfaces. On steep grades, the VW Tiguan it can activate Hill Descent Control to help keep a safe speed as you descend.
Off-Road Custom
Within Off-Road Mode custom settings, the driver can set various parameters like steering and all-wheel-drive options to their own preferences 
making the Volkswagen Tiguan a highly personalized SUV.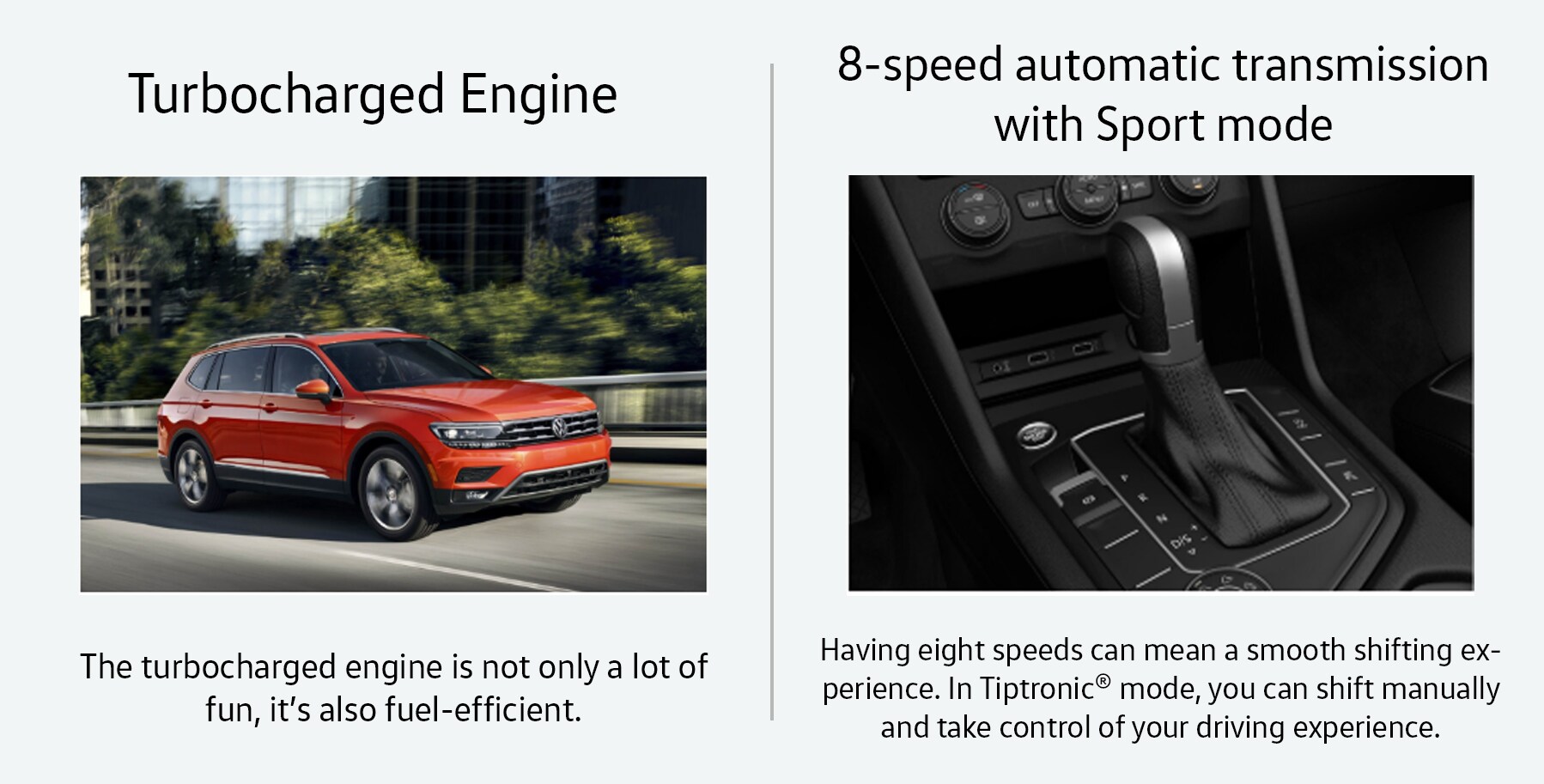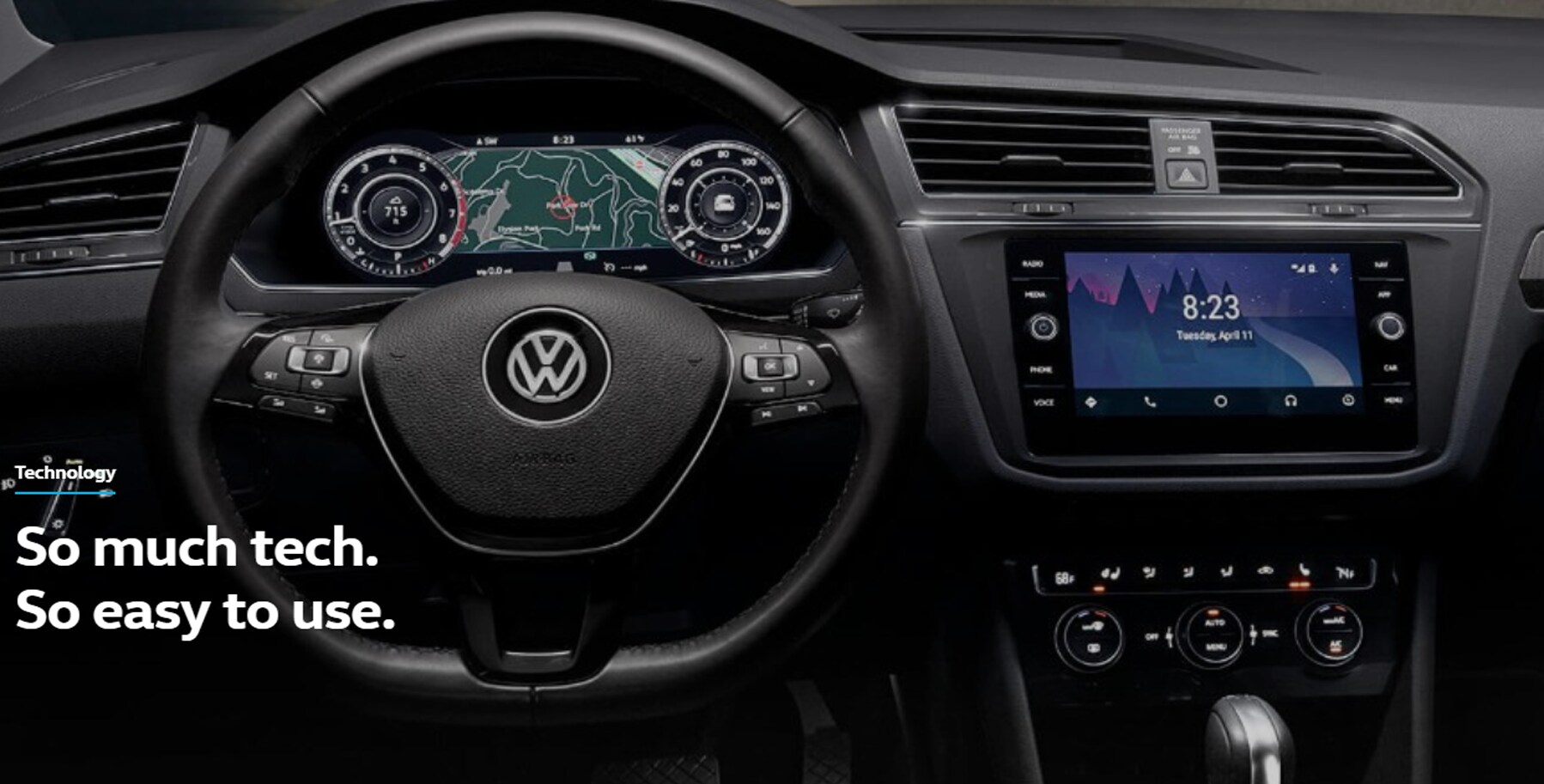 Technology
Volkswagen Digital Cockpit
The available digital display in the new Tiguan is a true breakthrough. Instead of the traditional instrument cluster, information can be displayed digitally in high resolution.
Driver Personalization
The 2019 Tiguan can store up to four driver profiles, remembering your personal preference for a wide variety of different settings and systems.
Wide Map Navigation View
You shouldn't get lost trying not to get lost. So, the available wide map navigation view in the new Tiguan adjusts the size of the map, making it even bigger and more prominent.
Take your apps for a ride.
To start App-Connect simply plug in your compatible smartphone and watch as your select apps appear on the touchscreen display of your Volkswagen.
Music appreciation.
The Volkswagen Tiguan's seats are comfortable and the acoustics are superb. This could become your favorite place to listen to music.
Pedestrian Monitoring (included in Front Assist)
The available Pedestrian Monitoring (included in Front Assist) feature in the new 2019 Tiguan can warn of pedestrians crossing in front of the vehicle and, under certain circumstances can, brake automatically to help prevent or mitigate the outcome of a collision with a pedestrian if the driver doesn't respond adequately to the warnings.
VW Car-Net® Security & Service
Where did I last park? Did I lock the door? The available VW Car-Net Security & Service can tell you, and even call for help if needed.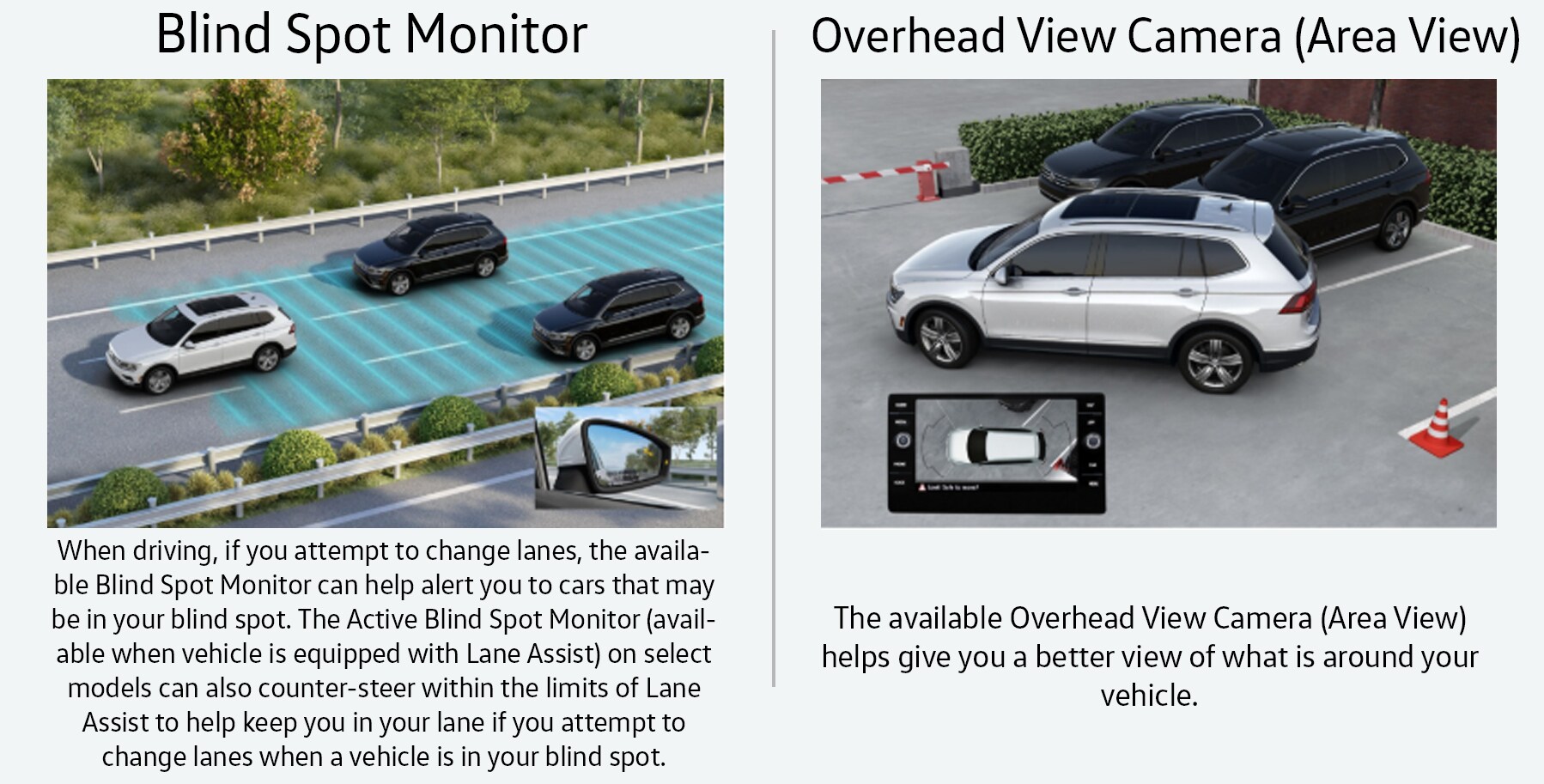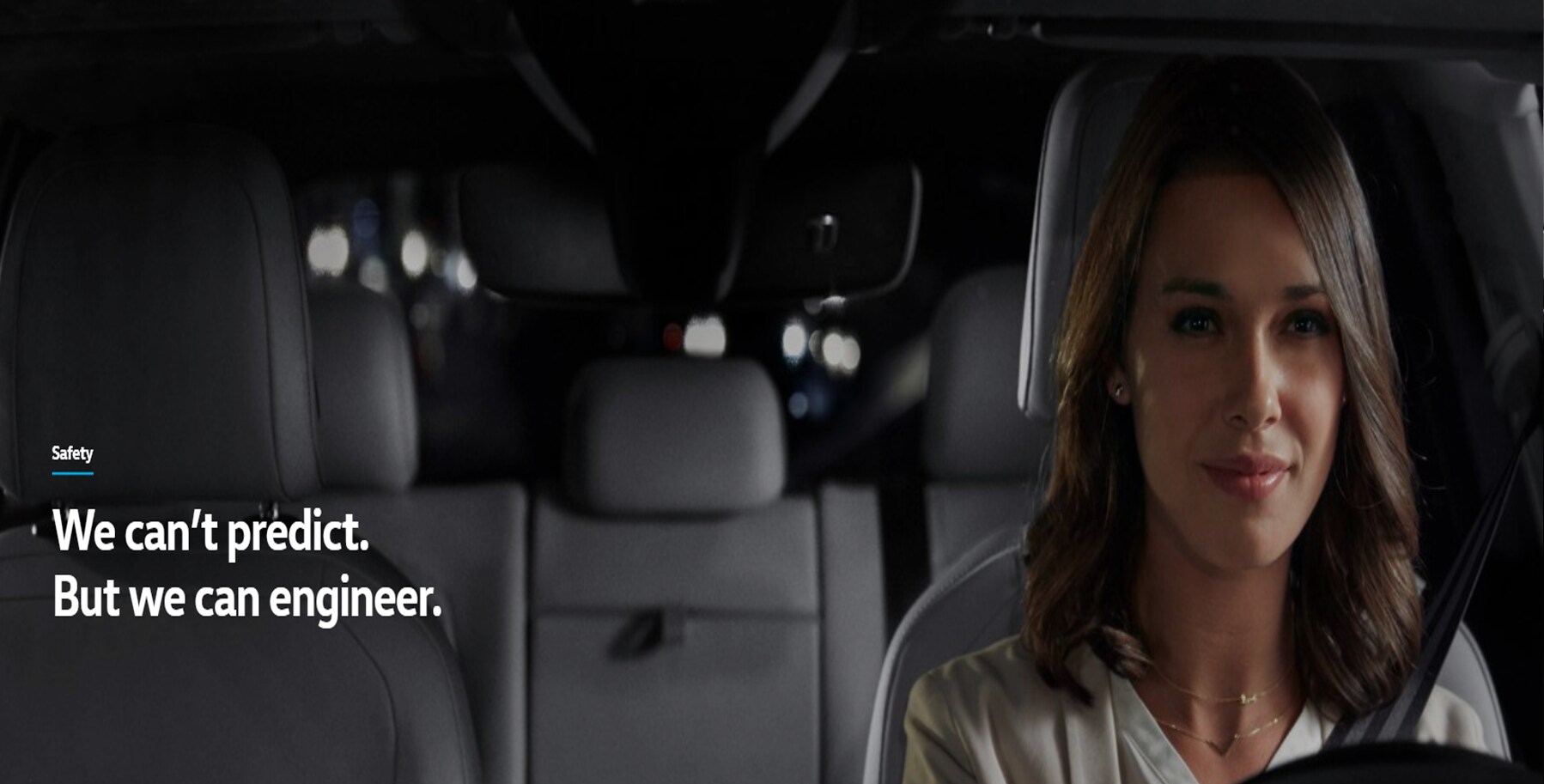 Safety
Rear View Camera System
Benefit from the view of a wide lens when you want it in the new 2019 Tiguan. It can help you see obstacles when backing up, a feature so helpful you'll wonder how you ever managed without it.
Safety cage
Front and rear crumple zones help absorb crash energy, while a rigid safety cage helps deflect it away from the driver and passengers. 
These features make the new Tiguan safe for the whole family in the event of a crash.
Intelligent Crash Response System (ICRS)
In the event of a collision that deploys the airbags, the ICRS can turn off the fuel pump, unlock the doors, and activate the hazard lights. 
The new 2019 Tiguan 
helps react if you might not be able to.
Automatic Post-Collision Braking System
Not every collision brings a car to stop. That's why our vehicles include the Automatic Post-Collision Braking System. It can also help slow the 
VW Tiguan
 down after a collision, helping reduce the chance of any additional impacts.
Tire Pressure Monitoring System (TPMS)
Monitoring and maintaining proper air pressure in your tires helps with efficiency and safety. The TPMS helps alert you to a loss of tire pressure so you know when to add air.
Seven stability-enhancing systems
From Electronic Brake-pressure Distribution (EBD), which helps maintain appropriate stopping power during a hard-braking situation, to Electronic Stability Control (ESC), which can adjust engine throttle and apply corrective forces to the wheels that need them most, your new 2019 Tiguan is equipped with a total of seven stability-enhancing systems.